Mountains From the Road: Ride E-Bikes in Switzerland
Ever considered to cycle up a mountain? Mountainbikers do that. But thanks to electric bikes, you can do it to. Rent an electric bike and let the mountain scenery impress you.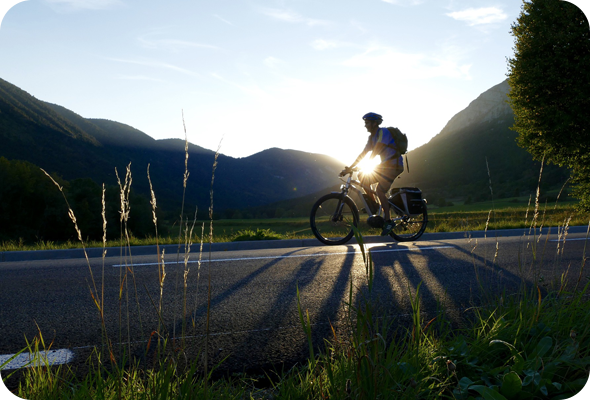 Who can ride an e-bike?
In the mountains, the old-fashioned mountain biking is becoming more accessible to everyday holiday cyclists, rather than just an extreme sport for the ultra-fit. But did you ever imagined cycling up the twisting Swiss mountain scenery route without any previous training at all? If you own an electric bike, this is possible. This assisted vehicles got very popular in the activity area, and true mountain bikers will surely not spare a moment thinking of it, but for the majority of tourist, an electric bike is the ultimate adventure. 
E-bikes, short for an electric bike, do look much like normal bike models, but they do carry a battery attached to the frame, often between the wheels. The battery powers a small engine which helps the pedals turn. It is, however, just a back-up; as soon as you stop pedaling, the power stops, too. Alongside the normal gears, there is a tiny monitor that allows you to choose how much assistance you want, from the first level, which is barely noticeable, to full-on turbo mode, which, after an initial and scary lurch forward, will help you cruising at an impressive speed. 
"To me, it doesn't matter whether it's raining or the sun is shining or whatever: as long as I'm riding a bike I know I'm the luckiest guy in the world" – Mark Cavendish
It is difficult to appreciate the Swiss mountain ascent from the foot of the mountain, though gazing up at the pass is daunting enough, if only for the sheer height of the climb. Your legs had never felt heavier as after you contemplated the ascent. That's why many people decide to switch from regular bikes to e-bikes. Riding an e-bikes brings plenty of benefits for people of all health, age and fitness levels. With an e-bike, tourists can cycle longer and farther than on a normal bike, including on terrains previously inaccessible to them. Riding an e-bike reduces the mental stress involved, for instance, in struggling with uphill paths. With an e-bike, Not only can you cover more distance in a day but you can access more difficult trails that usually attract only trained bikers. For many it brings a sense of joy and achievement.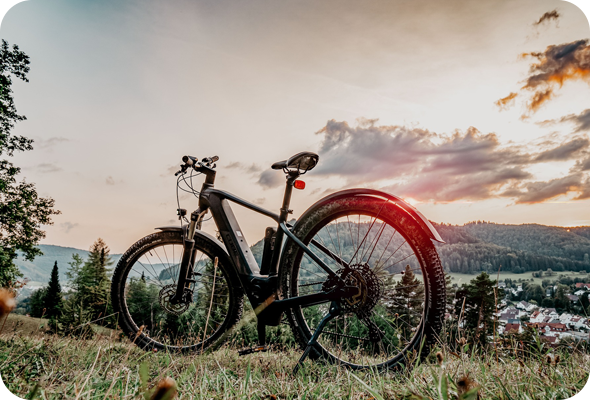 Exploring Switzerland with e-bike tours
The guide is also important, so be sure to choose the right one. Do so by reading reviews on my-mountains.ch and feel free to call up or write if you need additional pieces of information. Another thing to bear in mind is that the battery weighs a lot, which makes e-bikes much heavier than normal bicycles: great when you need a sturdy ride while mountain biking, not so good when climbing a road with a gradient reaching a steep 15 percent or less.
The e-bikes' assistance allows You to enjoy the breathtaking views of the valley as you climb steadily up without focusing on the physical effort. You can take the bike up in the ski lift, and then bump your way down on a ski slope. In winter, slopes are a paradise for skiing enthusiasts; in summer, they turn into a great playground for mountain bikers. There is not much call for power assistance when you are going downhill, but the resort is developing its mountain biking trails to meet the pursuit's growing popularity. Families, in particular, are growing increasingly fond of e-bike tours in Switzerland, as e-bikes open up the activity to children. Swiss landscapes offer hundreds of kilometers of dedicated downhill cycling paths, mountain biking trails, and several bike parks.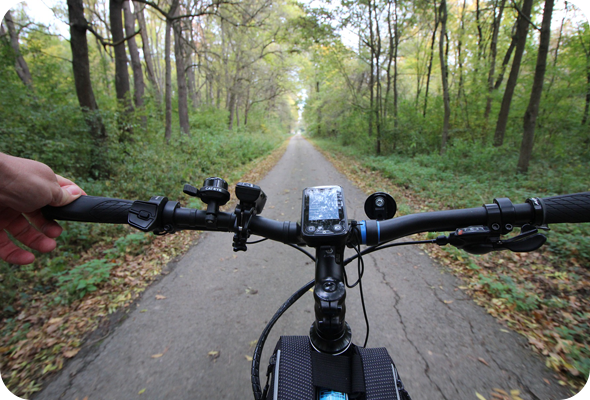 So if you were going on a proper mountain biking tour, in terms of technical guidelines, the guides will tell you always to have a finger on each brake lever and to press it gently and gradually when needed. The speed and weight of the e-bikes make it dangerous to squeeze the brakes suddenly because they are very sensitive.
Although slightly more technical, the ride will be mostly thrilling and a lot of fun. The well-marked trails take you up and down hills, on to huge, open plateaux with jaw-dropping views of the mountains, past picturesque mountain villages and pastures, and through cool forests where you maneuver around rocks and roots on the path. The e-bikes made it all feel so seamless and easy and you can truly make the most of the scenery. There will be a sense of adventure exploring the great outdoors of the mountain bike trails that someone as leisure cyclists would never even have considered without an e-bike.
Check out our latest Articles: