Best Tour Operator in Switzerland: Book Your Dream Holiday
It's happening! You've finally decided to book a trip to Switzerland.
Perhaps you've always wanted to see the famous Pilatus and breathe the fresh mountain air?
Ski the world-class runs of Davos, Saas-Fee, or Grindelwald and enjoy the famous Glacier Express ride from St. Moritz to Zermatt?
Or maybe visit one of the many famous chocolate factories?
Whatever your cause, Switzerland awaits.
Now, the organizing part.
Unless you're truly passionate about travel planning, that part is usually the most stressful.
If you're not a fan of finding THE perfect routes, booking hotels and ticket deals, and long searchers for the best non-touristy spots, traveling with a local tour operator in Switzerland might be your best choice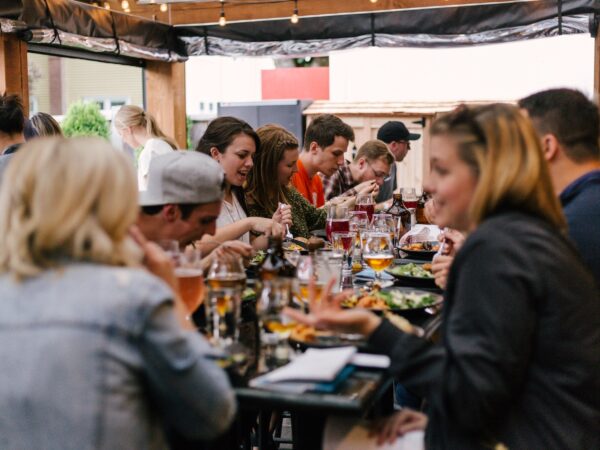 Organized tours are a great option for busy people
Organized tours still suffer from bad publicity.
You have probably heard a few horror stories about jam-packed buses, cold food, too-busy schedules, and hotels that look nothing like in the brochures from your parents' friends.
Luckily, group tours can also be a fantastic experience.
Currently, new alternatives to traditional big-group-on-the-bus tours are on the rise.
Small groups of like-minded people, independent local guides, and sustainable itineraries win over mass tourism.
If done well, guided group tours can help you immerse in the local culture by revealing hidden gems and unpopular routes showing you and everyday life tourists tend to overlook. Sharing common experiences is a great way to bond – group tours can give you friends for life.
Organized group tours are also a great way to spend your holidays in an easy mode without worrying about the next step.
Gift yourself stress-free holidays. Simply fill out our "Design your trip" form, and we will plan your itinerary. 
The key to a great private tour experience
The key to a great organized tour experience is finding the tour operator that meets your needs.
On the surface, traveling to Switzerland might seem easy – the country is famous for its impeccable organization, efficiency, and politeness.
But when you get to the nitty-gritty of calls, bookings, and ticket options, Switzerland starts resembling a maze of equally fantastic but hardly recognizable deals.
Not to mention the language barrier. The majority of Swiss people speak Swiss German, a dialect that tends to be obscure even for native German speakers. 
That's why having the support of the best tour operator in Switzerland is crucial for making your holidays here simple and enjoyable.
Here are our top 7 tips for finding the best tour operator in Switzerland before your next trip to the country of chocolate, cheese, and sky-high mountains
"My-Mountains – where travel becomes an
unforgettable adventure."
Our Top 7 Tips To Find The Best Tour Operator in Switzerland
1. Identify your needs
Switzerland is a truly magnificent country – though small, it could keep you busy for a year straight. The first step to identifying which tour operator you want to travel with is deciding what you'd like to do during your holidays. Who you're traveling with and your budget is also very important.
Ask yourself: Are you interested in outdoor activities like hiking and ski lessons, or do you want to prioritize relaxing? Would you like to stay in one place and plan day trips or travel around the country? Are you passionate about the local food, or are you happy to stick to what you know? Do you enjoy traveling in a big group, or are you after a more private experience?
Asking yourself those and similar questions will help you focus on your main holiday goals.
Once you're there, it will be much easier to narrow down which tours and tour operators will be a good choice and which are a 100% no. 
2. Group travel? Check if you match the audience 
There is nothing worse than ending up in the wrong crowd, right? While it may be entertaining to travel with various demographics, in the end, we want to keep company with people who are like us.
Before choosing the best tour operator in Switzerland to travel with, check who they and the tour itself cater to. The audience traveling to Switzerland varies immensely: from young families with children to solo backpackers and pensioners.
We can assure you they will all be interested in different activities. Those can range from cheese and chocolate tasting to rail tours, museum visits, and paragliding.
If you travel as a family with small children, you probably want to spend time with other families, not 20-somethings, partying at the nearest apres-ski bar.
You just won't connect.
That's why always check if you belong to the tour's demographic – it will make your holiday experience much more pleasant and relaxed.
The number of people in the group is also crucial.
Some people like company and don't mind moving around in a big group. Others prefer a more private and intimate atmosphere.
The latter has many benefits. You can have a personal relationship with the guide and ask them as many questions as you like. Smaller groups fit in more places than big ones – and often can be a little more spontaneous with their schedule.
Great if you crave a little more personal touch.
Make sure you choose the option that suits you the most. 
At My-Mountains, we offer personal travel experience with small groups and low client-to-guide ratio. Check our ski holiday packages.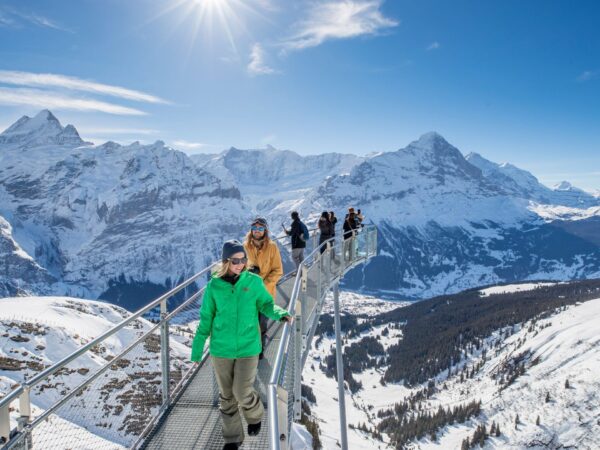 3. Look for hidden costs
It's still common for many tour operators not to list all the additional costs on their official tour offers or quotas.
Or they do it in a small print on the last page.
Then, during the trip, you suddenly have to dig deep into your pocket to pay extra for local tax fees, climate fees, entrance admissions, guide tips, etc. These can sum up to a good few hundred dollars.
The problem is not the part where you have to pay.
It's where you don't expect it.
A trustworthy tour operator should have a transparent service policy that lists all extra costs the client would be obliged to pay. It's worth to have a personal call with the travel agent or the company's representative to get all the information firsthand.
You can ask them for their overhead rate and what your dollars will be spent on, in detail.
After all, you are looking for the best value for money, and that's what you should get.
Request a call with My-Mountains' representative and learn what experiences are included in your tour fee. 
4. Prioritize local companies
It's tempting to travel with big, prominent tour operators. They haven't made their name serving lousy food and keeping behind schedule, right?
In fact, you might be making a smarter choice by going local.
Local, smaller tour operators usually keep their feet on the ground. They know their collaborators: guides, instructors, hotel owners, and restaurateurs personally.
Usually born and bred in the area, they are passionate about showing you their country off the beaten path. Looking for hidden gems outside of major tourist spots? Local agencies should have your vote.
Boutique travel agencies are also more flexible and client-oriented. They usually offer tours for smaller groups and provide you with a level of personalization that big agencies can't.
They are more likely to accommodate special needs or changes to the package deals they sell.
At My-Mountains we offer flexible vacation packages adjusted to your needs and availability.
Or they will design an entire trip just for you.
In Switzerland, where most of the population speaks in a local dialect, having a local guide is a true convenience. Although most of the Swiss speak reasonably good English, having a Swiss German speaker always gets you extra special treatment. 
Explore Switzerland with local guides. Check why booking with My-Mountains is the best option for your private holidays. 
5. Look through the reviews
Reading reviews is sometimes similar to reading a script of a family argument. Probably everyone has a reason for their complaint, but they have long forgotten what it was all about.
Always take reviews with a pinch of salt. The truth usually lies in the middle.
How do you find out if the travelers have a good time on a tour? Reading as many comments as possible on a variety of pages can give you a good average. However, finding a website with trustworthy reviews is a challenge.
In general, TrustPilot, Kayak, and TripAdvisor seem to have the best reputation for factual reviews.
While most comments and opinions might not reflect someone's whole experience (after all, we usually comment to complain) they can indicate whether a company is trustworthy and give you a better picture of the accommodation, food, and choice of attractions.
Would you like to see what people think about their holidays with My-Mountains? Check what our clients wrote about us.
6. Green tourism – check your impact
Tourism is quite literally changing the planet. More people than ever before move freely from place to place, chasing their dream destinations, rarely focusing on their impact on the local communities and the environment.
If sustainable traveling is an idea close to your heart, check if the company you're considering is committed to eco-friendly solutions.
How? For instance, check if the operator offers public transport transfers or vegetarian menu options or if they collaborate with service providers (hotels, restaurants, farms, museums) that commit to reducing the environmental impact.
Traveling to Switzerland, you are spoiled for choice when it comes to making your holidays a little more planet-friendly.
Switzerland has one of the best public transport systems in the world. Famous white and red trains run with incredible frequency and timing, reaching the most remote areas of the country (some places like Zermatt are entirely car-free and only reachable by train).
In Switzerland, you simply don't need a car.
Traveling with SBB is pure luxury. Imagine passing by alpine meadows seated comfortably in a Glacier Express, admiring breathtaking mountain vistas sitting comfortably while munching on a piece of locally produced Swiss cheese.
We want you to travel green. Check our sustainability strategy.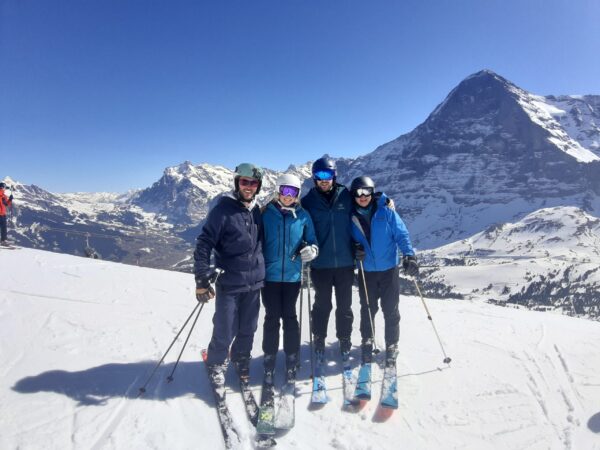 7. Safety first
We all wish each other safe travels, and safety is indeed one of the key factors to focus on when choosing a tour operator. There are multiple ways you can do it.
First, check whether the company has all the necessary accreditation and is recognized by local governments. Companies without the official seal usually have no insurance coverage and will avoid responsibility if anything happens.
Second, check what the travel insurance provided by the operator actually covers. If you're unsure about the remuneration, the scope of services, or other conditions, you can always call the agent and ask for clarification.
Depending on the activities you planned, you can also decide to purchase additional insurance for extra coverage. It might be useful in case of lost luggage or delays, or if you plan to do any potentially dangerous sports.
Regarding health and safety issues, we suggest that you refer to governmental recommendations for entering Switzerland. You can check those on the websites of local consulates and embassies. 
Reviews are another great way to check whether the previous travelers felt safe while on the tour. Issues with transportation, accommodation, or accidents of all sorts happen – but make sure that all safety protocols were observed and the situation was handled quickly and responsibly. Having feedback on guides and customer support is also crucial.
My-Mountains commits to transparency and safety. Book a call to find out how we manage your data and what insurance we recommend.
Call, pack, and go
And that's it!
We hope that this guide will help you choose the best tour operator in Switzerland for your next trip to the country of chocolate and cheese.
We know that travel and leisure is a huge business, and finding just the right provider for your needs is often tricky.
Prioritizing your needs, being inquisitive, and contacting travel agents to query them about their offers is the best way to get what you want. 
A new era in group travel has come, where personalization and individual experience matter the most. Such services and a client-oriented approach should point you straight to the best tour operator in Switzerland.
Check out our latest Articles: