Join My-Mountains Ski Camps Switzerland
Are you already a good skier and want to become a true skiing pro? Do you feel confident on the slope, but there are still some techniques you haven't quite nailed yet? 
Then our Ski Camps Switzerland are perfect for you. Join our three-day intense ski camp with a professional ski instructor and take your skiing to the next level.
Let's discover the benefits of our ski camps Switzerland.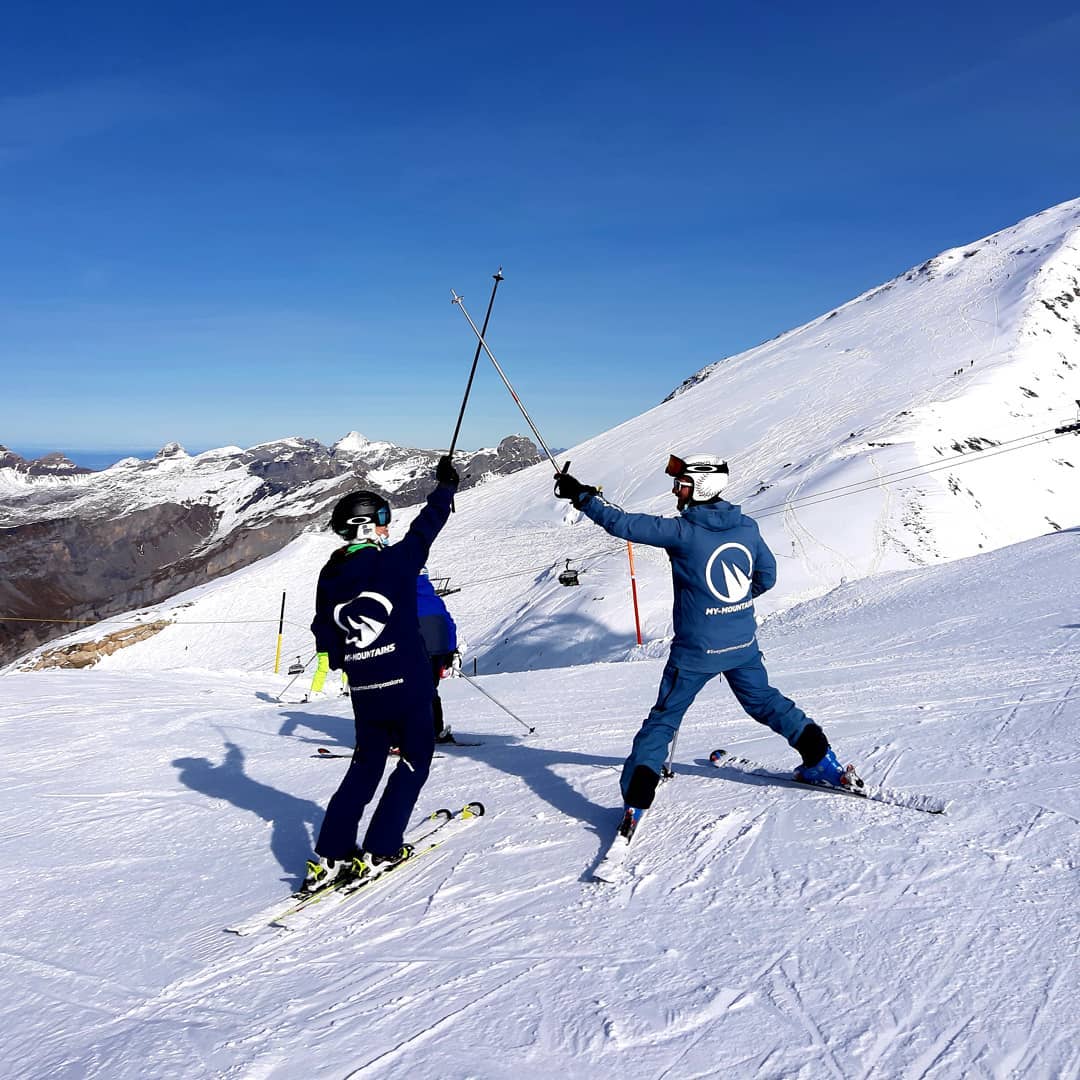 Upgrade your skiing skills in just three days
Our ski camps Switzerland are dedicated to good skiers who want to take their skills to the next level and unleash their potential as ski masters.
Train under the supervision of a professional coach in a small group and improve your technique in just three days. 
Our English-speaking ski coaches adapt their methods to every participant. Their empathetic, kind, and patient approach, together with a tailor-made teaching program, will make sure that you reach incredible results in just three days. 
"A bad day on skies beats a good day at work"
When do ski camps take place?
Out Ski Camps Switzerland take place every year between November and December. The locations vary depending on the snow conditions and hotel availability. This way, you're off to a good start with your skiing season, both physically and mentally!
What's the ski level required?
We expect you to be a level 4 skier. You can check your ski level here. 
What's the ratio of the ski instructor to the client?
We believe personal approach and feedback are crucial for a good learning experience on the slope. That's why we train in small groups with a ratio of 1 ski instructor to 6 participants. 
What do I need to bring?
You will need your ski gear, skiing clothing, and something to change into once the lessons are done. If you need any hints on what to pack for your skiing holiday, have a look at our packing guide.  
What are my benefits? 
Personal supervision of a professional ski coach
Individual learning plan
10 hours of on-piste training
Video analysis of your ski performance
New skiing friends!
First, you will receive a professional assessment of your skills. Then, you will work with your English-speaking ski instructor to create a plan, including objectives to reach by the end of the camp. The instructor will create a tailor-made plan for you and ensure you follow it correctly.
Your ski coach will use various teaching methods and investigate your mistakes with video analysis. That will help you correct them the next day. You will, of course, also have fun, make new friends, and enjoy the best Swiss ski resorts!
What's included in our ski camps Switzerland?
Usually, we include the following:
Accommodation in either 3* or 4* Hotels (example), including breakfast.
Three half-day ski coaching sessions (9 hours of coaching is total)
Ski pass for the entire duration of the Ski Camp
Video correction daily at the hotel
Why should I join My-Mountains Ski Camps Switzerland?
Our Ski Camps Switzerland have been designed to be a perfect mix of hard work and pure fun.
We aim to give our participants maximum attention for maximum effects. We want you to enjoy your skiing season to the fullest and feel confident on every slope you enter. 
If you want to meet new people, make friends, have fun, enjoy the best Swiss ski resorts, and make good use of all the luxurious amenities they offer, then don't think long, book today!
Check out our latest Articles: