Places for hiking – Top 7 places

Best Hikes in Europe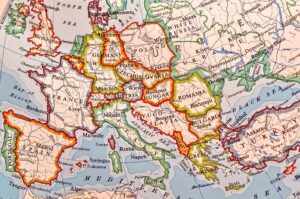 Europe is the land of the most scenic and breathtaking landscapes – The questions is: where are the best hikes in Europe? It has a perfect share of the amazing picturesque natural attractions. As this region of the earth is characterized by vast mountain ranges and plains, therefore, it is no wonder to find the best nature-themed sceneries in Europe. Europe also contains the world-class hiking options from multiday hiking adventures to hut to hut routes to get an amazing experience. After hiking on these amazing trails you will get a perfect idea of how amazing the feeling is.
Do you want to know the best hikes in Europe? Well, here are the best options for you which you must plan to visit in your upcoming Europe trip.
The best Hikes in Europe which must be on your bucket list
1. Tre Cime Natural Park Trek, Dolomites, Italy
If you are the one who does not hike then you must visit the Tre Cime Natural Park Trek in Italy. This is an amazing hike which is technically not difficult to height but can let you have an amazing experience in the best possible way. It is because this amazing hike is encompassing most dramatic landscapes and picturesque scenery. This is one of the most premier hikes in Europe which you must visit at least once in your life. From the beginning to the end of this trail you will surely be spoiled with the sensational views. There is no single boring moment which you can have there. Although it is possible for you to come here for one day but it is highly recommended for you to stay for 3 days and enjoy more.
2. Samaria Gorge, Greece
If you are planning to visit Crete then visiting Samaria Gorge must be in your bucket list. It is certainly one of the longest gorges which you can find in Europe. It always has stunning views. No matter which time of the day you are going to visit, it always contains something amazing for you to showcase. This can be an amazingly epic day hike which you can ever visit. The things which are making this gorge an epic hike are not only the length of the gorge but many times you will also see crossing rivers which will amaze you. You can expect to see plenty of natural structures and most inspiring flora and fauna. This place is capable to offer you a lot of fascinating views and will surely let you experience a memorable time in the best possible way.
Trips ℹ️
⛰️  My-Mountains has some awesome tours and trips. Click here for more information. ⛰️
Tipps
3. Lauterbrunnen, Switzerland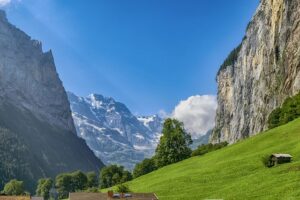 The most amazing thing which makes this hike a perfect option to choose for your next hiking tour is its location. You can find this in the heart of Swiss Alps, and you can enjoy hiking on its beautiful tracks at any time of the year. This hike will let you feel like you are on the way to heaven. Because it is surrounded by breathtaking views, turquoise lake, snow-capped peaks, and lush green pristine peaks. With the perfect cool breeze, this hike can truly mesmerize you with its beauty. It will let you feel as you are completely in a new world. It is quite a challenging hike which will surely let you enjoy more and can be one of the best hikes in Europe for adventure-lovers.
4. Flysch route, Spain
This is an excellent hike which is perfect for geographical fanatics. This amazing hike is situated in Spain's Bosque Region. This amazing hike in Spain is showcasing a host of natural and unique rock formation which has been created by the wonders of climate changes in this region. Even more, some of these amazing and unique rock formations are dated back to more than 50 million years. Most interestingly, this is the most location where many of the "Game of Thrones" episodes have been filmed. With the breathtaking landscape down to thrilling and most exciting cliffs, this is one of the best hikes in Europe which are surely going to be unforgettable for you. To appreciate the full view of this perfect place it is highly recommended for you to visit the place during low tide.
5. Lac Blanc, France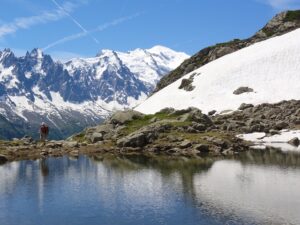 Whenever you are going to visit the French Alps, it is highly recommended you to visit Lac Blanc too. Even this is one of the easiest hikes here, but the most scenic too. This can be an amazing walk which everyone can easily enjoy. The only thing you need to do is get a cable car from Chamonix and later a chairlift to reach to the index. From here you can easily start to hike to the Lac Blanc, most of this is downhill. It is highly important to wear robust hiking shoes because the entire path is rocky. You can expect to have perfect views of snow-packed peaks even during summer days. Hiking to Lac Blanc is surely going to be the most amazing experience which you can ever have.
6. Slovenian Mountain Trail, Slovenia
Slovenia's Alpine ranges are perfect sights to hold. Hikers are always welcome there to explore the beauty around. This amazing place can offer you massive challenges but the adventure lovers can find this as an amazing option to explore. This is a long trial which will take a lot of time to cover the entire 550km distance. However, advanced hikers can do this for sure to get breathtaking views in return.
7. Zillertal, Austria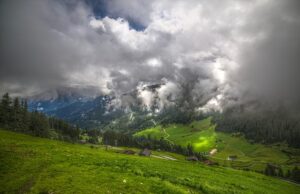 If you are looking for the most fascinating and best hikes in Europe then you must visit Zillertal which can give you the most memorable hike to experience. Austria is one of the ideal countries which you can visit in Europe.
However, Zillertal is a mesmerizing hike with more than a thousand kilometers (621.371 miles) of amazing trails perfect for both beginners and advanced hikers.
Conclusion – best hikes in Europe
After getting the information about the best hikes in Europe which you must visit once in your life, now this is the time to plan a visit to these. These are perfect hikes which will let you have a memorable tour with ease.
Do you wanna go to an adeventure? My-Mountains offers you some awesome tours and trips. Please have a look and share this articel, when you liked it!