Best Hikes in Europe: 7 Swiss Hiking Trails That Will Blow Your Mind
Switzerland is a true paradise for all kinds of outdoor enthusiasts, particularly hikers. Although there is no shortage of beautiful trails in Europe, the Swiss Alps are hands down one of the premier hiking destinations for everyone who seeks varied and well-maintained trails as well as breathtaking panoramic vistas. 
In this article, we're sharing our selection of 7 most scenic hikes in Switzerland that might just as well compete for the title of the best hikes in Europe.
Lace your shoes, we're leaving now!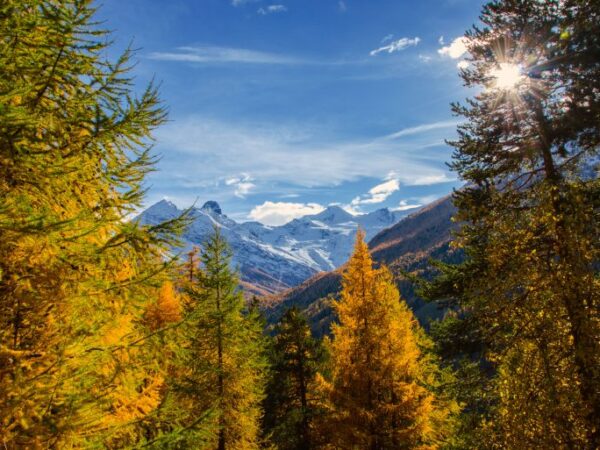 #7 Saas-Fee in the fall
Saas-Fee is a remote Alpine village and a famous ski resort located in the Canton of Valais, one valley away from Zermatt. While being a premier destination all year round, Saas-Fee becomes a true golden jewel during the fall, making it a site for one of the best hikes in Europe. The village is surrounded by 14 sky-high peaks covered with thick larch forest, cut with dozens of meandering hiking trails.
In the fall, larches take on a golden color, setting the surrounding hills ablaze. 
We recommend you take a historic path around the hills surrounding Saas-Fee and learn about the unique flora, fauna, and climate of the Saas-Fee Valley. Check Saastal website for more hiking recommendations.
#6 Schilthorn and Lauterbrunnen
Lauterbrunnen, a narrow valley in Bernese Oberland, is famous for its ethereal beauty that inspired J. R. R. Tolkien's elven town of Rivendell in "Lord of The Rings". 
The mighty peak of Schilthorn, also known as Piz Gloria, towers over the eastern side of the valley. A short and exciting journey with a gondola will take you to a famous restaurant at the mountain's peak. Here, famous scenes from the James Bond movie "On Her Majesty's Secret Service" from 1969 were filmed.
Eat a James Bond-inspired brunch and take a few pictures with the life-size frames from the movie. The restaurant rotates around its axis, allowing you to admire a stunning 360-degree view of the Jungfrau massif and numerous famous peaks.
Piz Gloria and its surroundings are a great starting point for one of the best hikes in Europe. Coming down from the top of Piz Gloria, you can embark on several different trails.
Starting from Mürren, you can discover a wonderful Alpine panorama with a Northface Trail, follow a Flower Trail in Allmendhubel, or hike along Engital to the Schilthorn hut, always under the watchful eye of Jungfrau, Eiger, and Monch.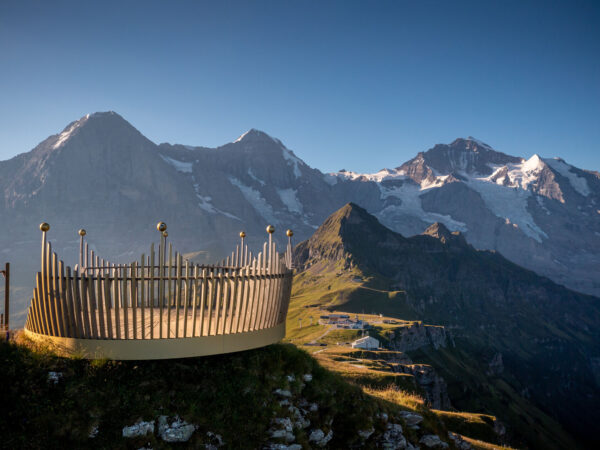 #5 Mannlichen to Kleine Scheidegg
It's easily one of the most breathtaking panoramic hikes in the Jungfrau region and in Switzerland at large.  Access the Männlichen summit by cable car from either Grindelwald or Wengen and embark on a stunning 2-hour panoramic walk to Kleine Scheidegg. You will find yourself surrounded by mighty peaks and fantastic vistas on snow-covered peaks reaching across the Lauterbrunnen valley on one side and to Grindelwald on the other. Easily one of the best hikes in Europe.
When you reach Kleine Scheidegg, enjoy a drink and a snack at one of a few mountain restaurants. From there, you can take a train down to Wengen and Lauterbrunnen or continue your adventure with a legendary cog-wheel mountain railway up to Jochpass and Jungfraujoch, the highest railway station in Europe.
While in the Jungfrau region, make sure to check our guided panorama trail around Grindelwald – your opportunity to discover a lesser-known side of the region.
"Every season is a good season to travel."
– My-Mountains –
#4 Fronalpstock
Fronalpstock is a mountain above the car-free village Stoss in Canton Schwyz in central Switzerland, reaching almost 2000 meters and offering superb, 360-degree panoramic views on the Lake Lucerne, Rigi, Glarus, Uri Alps, and Reuss Valley.
The summit is reachable by cable car from Stoos. The ridge walk from Klingenstock to Fronalpstock is considered one of the most spectacular hikes in Switzerland, and easily one of the best hikes in Europe. If you wish to make it more challenging, you can hike from Stoos to Klingenstock.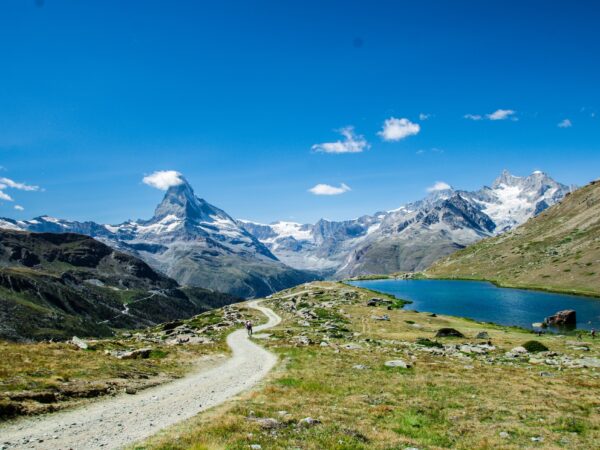 #3 Five Lakes Hike in Zermatt
It's a classic hike for everyone visiting Zermatt, home to one of the best hikes in Europe (and most famous). Beloved and highly frequented, it offers stunning panoramic vistas on most of the iconic peaks surrounding Zermatt.
You can start either from Sunnegga or Blauherd. Simply take a funicular or a cable car right outside the village. From there, follow the "5-Seen-Wanderung" signposts. Within the next two hours of casual-paced walking, you'll encounter five alpine lakes, each different in size, shape, color, and features.
From emerald green to bright blue, alpine lakes around Zermatt are a true eye candy. If you're not afraid of the cold, jump in one of them to cool down before a ride back to the Zermatt.
#2 Oeschinensee panorama hike
Lake Oeschinen is a UNESCO World Heritage site located in the Bernese Highlands, a few kilometers from the charming village of Kandersteg.
It's widely considered to be one of the most beautiful alpine lakes in Switzerland and perhaps in the whole of Europe. Embedded in a gorge between sky-high peaks, Oeschinensee resembles an almost perfectly round turquoise jewel.
It's reachable by cable car or on foot from Kandersteg. A few hiking routes, including Oeschinensee Panorama Trail, will take you above the lake's surface and let you admire its stunning color from above, together with impressive alpine vistas on rugged peaks on the other side of the valley. 
#5 Aletschgletcher hike
Another UNESCO World Heritage Site and simply one of Switzerland's most stunning natural landscapes, Aletsch Glacier is a must-see for anyone who loves hiking.
Located in the canton of Valais above the village of Mörel, Aletsch is accessible by a cable car ride to Riederalp, Bettmeralp, or Fiesch, quaint alpine villages full of typical wooden houses. Bettmeralp features a small chapel with the most stunning view.
From there, you can choose a few hiking trails to reach the glacier itself. We recommend starting at Moosfluh, from where you can admire a remarkable view of the glacier. One of the trails leads down to the glacier valley and directly along the ridge with a narrow, stony path. The glacier will seem to be at your fingertips, making it one of the best hikes in Europe.
Check out our latest Articles: