The Best Grindelwald Hiking Trails - Experience the Jungfrau Region on Foot
There is hardly a more picture-perfect region in Switzerland, than the Jungfrau area. Sky-high, snow covered peaks, lush green valleys, ringing cowbells and sparkling Alpine rivers, all tucked into one neat packet. 
At the center of the region lies its beating heart: Grindelwald. A lovely small village and a perfect starting point for all your adventures. 
If you want to experience Switzerland in a nutshell, there's no better way than setting on to a hiking trip in the Jungfrau region. Grab a few tips on what to see and do and of course, the best Grindelwald hikes. 
Lace your shoes, we're leaving now!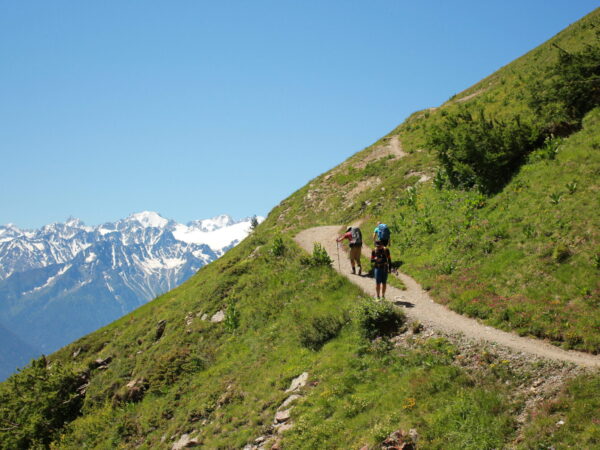 Explore the natural beauty around Grindelwald
Grindelwald's Alpine beauty is the epitome of Switzerland's natural grandeur. The soaring mountains cast shadows over lush meadows and vibrant wildflowers, creating a symphony of colors that captivates every hiker. The region is known for its stunning alpine flora which can be explored through dedicated alpine flower trails. 
Grindelwald caters to hikers of all experience levels. With a network of well-maintained hiking trails, accessibility is never an issue. From gentle strolls through flower-strewn meadows to challenging treks, there's something for everyone.
Wherever you go, a mighty trio will cast their watchful eye over you: Eiger (ogre), Monch and Jungfrau are a true vision. Their mighty silhouettes and imposing beauty make one feel small and insignificant.
The best of Grindelwald hiking trails
Grindelwald Panorama Trail – a few trails capture the region's stunning beauty quite as this panorama walk. Start with a gondola ride to First, where you can explore multiple attractions such as Tissot Cliff Walk, a dedicated viewpoint, and an alpine museum.
From there, walk at a leisurely pace to Bachalpsee, admiring the stunning vistas on the valley and the peaks behind it. From Bachalpsee, walk down to Bussalp, where you can catch a bus back to Grindelwald.
Eiger Trail from Alpiglen to Eiger Glacier – this trail belongs to Switzerland's most renowned hiking trails. And no wonder: it showcases a stunning alpine nature and the country's renowned glacier covering the slopes of Eiger.
Take a train from Grindelwald to Alpiglen. From there, follow a well-posted Alpine trail no 353. The route is quite demanding: 6 km / 3.7 miles of a rocky path with 800 m/ 2600 ft ascent. Sure-footedness required. 
Grindelwald to Männlichen and Kleine Scheidegg – this is another stunning panoramic walk that will take you along the mountain ridge with a perfect view of the mighty trio.
Take a gondola to Männlichen (there is a hotel and a restaurant if you wish for lunch with a fantastic view), and follow a well-posted trail to Kleine Scheidegg. The walk takes only 1 hour along a flat and accessible path.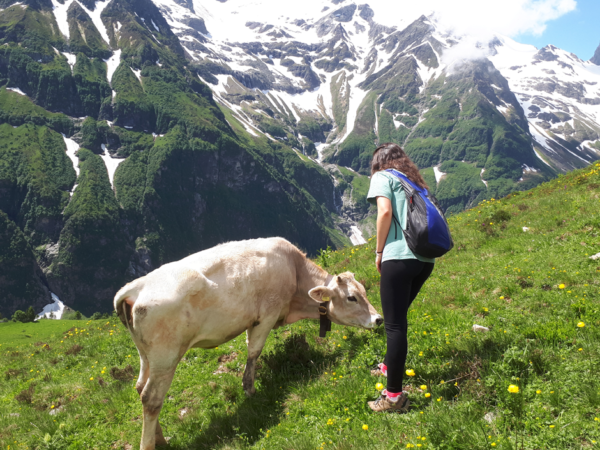 Grindelwald hiking for adventure seekers
For the true adrenaline junkies, Grindelwald has an array of thrilling activities to offer. Picture yourself paragliding over the mountains or experiencing the heart-pounding thrill of skydiving. These adventures will create memories that last a lifetime.
An equally exhilarating adventure is climbing a Via Ferrata. Italian for "Iron Path", Via Ferrata is a path routed along a rock face. Iron poles and hinges help you traverse practically inaccessible terrains, and provide a whole new perspective on the mountains. 
But that's not all Grindelwald has to offer! Ziplining and aerial adventure parks provide exciting and family-friendly adventures. If you love speed, try zipping down the hill with a trotinette or a mountain bike.  
"Every season is a good season to travel."
– My-Mountains –
Unique cultural experiences
Grindelwald's local culture is as captivating as its landscapes. Throughout the year, vibrant festivals and events showcase unique local Alpine cultures and lifestyles.
From the fall celebration of bringing the cattle down from their alpine pastures to Christmas delights and summer music festivals, your Grindelwald hiking adventures will surely get a little extra. 
Don't be surprised if you find yourself dancing to traditional Swiss tunes with the locals during your visit.
If you venture into the region, you will find true treasures there. Explore charming alpine villages like Wengen and Lauterbrunnen. These picturesque hamlets offer a glimpse into Swiss mountain life and a cultural experience you won't find anywhere else.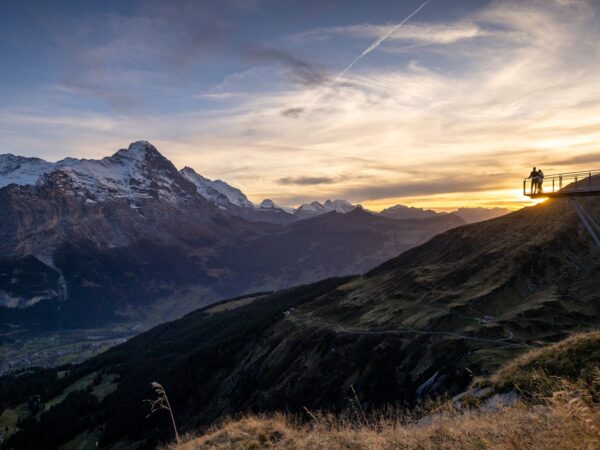 Trips for planning your Grindelwald hiking adventure
Before you embark on your Grindelwald hiking adventure, let us share some tips that will make your experience more smooth and enjoyable. 
Book your accommodation in advance. Grindelwald is a popular tourist destination, especially in summer. Many tourists come here to enjoy the trip to the famous Jungfraujoch. Grindelwald boasts many options, from simple huts to exclusive hotels and luxury chalets. 
Use public transport. Swiss public transport system is probably the best in the world. Timely and efficiently, it will allow you to travel comfortably anywhere you want. Many mountain villages, such as Wengen, are only accessible by train. Plan in advance to buy your Swiss Pass Flex and regional tickets which provide additional reductions on local attractions. 
Hire a local guide. Switzerland is a fascinating country with a long history and rich traditions. Its natural beauty is truly incomparable. However, it's also quite inaccessible. A local English-speaking guide will help you immerse in that fascinating world and experience it at the next level.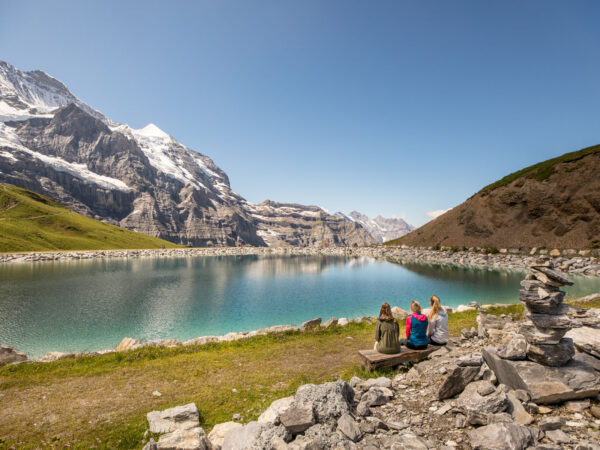 Start your Grindelwald hiking adventure today
Whether coming here to enjoy the peace and serenity of nature or embark on an adrenaline-filled adventure, Grindelwald will not disappoint you. 
With its unspeakable natural beauty and a broad range of activities, Grindelwald is a perfect destination for everyone. Dense network of well-maintained hiking trails offering breathtaking panoramic vistas, connected by an excellent public transport system, make it ideal for those who want to enjoy a slower pace of life.
With the help of a local guide, you will be able to embrace the complexity of the local culture and its close relationship with the natural environment.
Pack your backpack, Grindelwald is waiting.
Check out our latest Articles: