Who doesn't like paragliding?
 Paragliding is one of the best ways to enjoy Switzerland. 
If you're a lover of adrenaline, we are sure you'll like it! 
Let's fly!
This sport is unimaginably versatile, variable and fascinating. No flight is like another. In fact, due to the different seasons, weather conditions, and thermal conditions every flight in Switzerland is simply unique. Therefore, why not trying it? 
Besides you can experience panorama flight, thermic flight or even kunstflug, paragliding is always a special affair. In order to make everything run smoothly, a few preparations are necessary. First of all, it doesn't matter if you want to fly solo or on the way with the tandem. We will always make sure that you'll land safe. 
"When everything seems to be against you, remember that an airplane takes off against the wind, not with it." — Henry Ford
So, what are the things to consider before you decide go paragliding?
Let's start from weather conditions. Good weather is absolutely essential. So, before you decide to paraglide, the team will check if the weather is safe. Another important fact is that no previous knowledge is necessary at all. Your pilot will tell you a few words about the safety and the rules. He will also introduce you with the positions and what to expect before the start. 
And what if you don't belong to sports type of person but you're still lover of adrenaline? The good news is that you don't need to be ih high physical shape. Therefore, a normal fitness abilities are completely sufficient. If you can run a few steps, you can also do paragliding. It maybe seems like a 'mission impossible' , but believe us, it's not. 
Finally, there is also no minimum age for passenger flights. Until the age of majority, only the consent of the legal guardian is needed. Some providers have special small tandem gliders at their disposal so that even the youngest guests can experience the fascination of flying.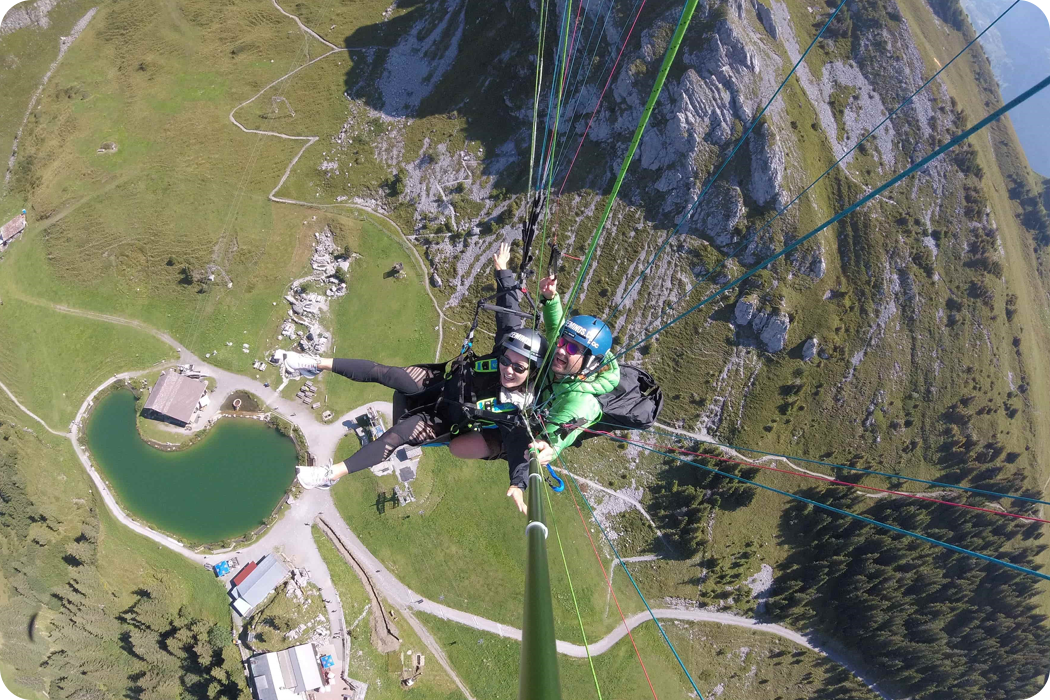 And what about fear of heights? 
Anyone who can ride a chairlift will not be afraid of paragliding either. In summer you take good, ankle-high shoes, a light windbreaker or a sweater with you. In winter good ankle-high boots, warm jacket, and trousers or ski suit and gloves. Photographs can be taken during the passenger flight because during the whole flight the hands are free. On your demand, the pilot can also take photos or videos with a special camera.
The pilot will be happy to give you the steering wheel in a quiet minute. If you are interested in paragliding, he will also be happy to answer your questions about equipment and training. At the paraglider taster day, you already fly a few meters above ground and steer the paraglider yourself. Of course always with the support of the flight instructor.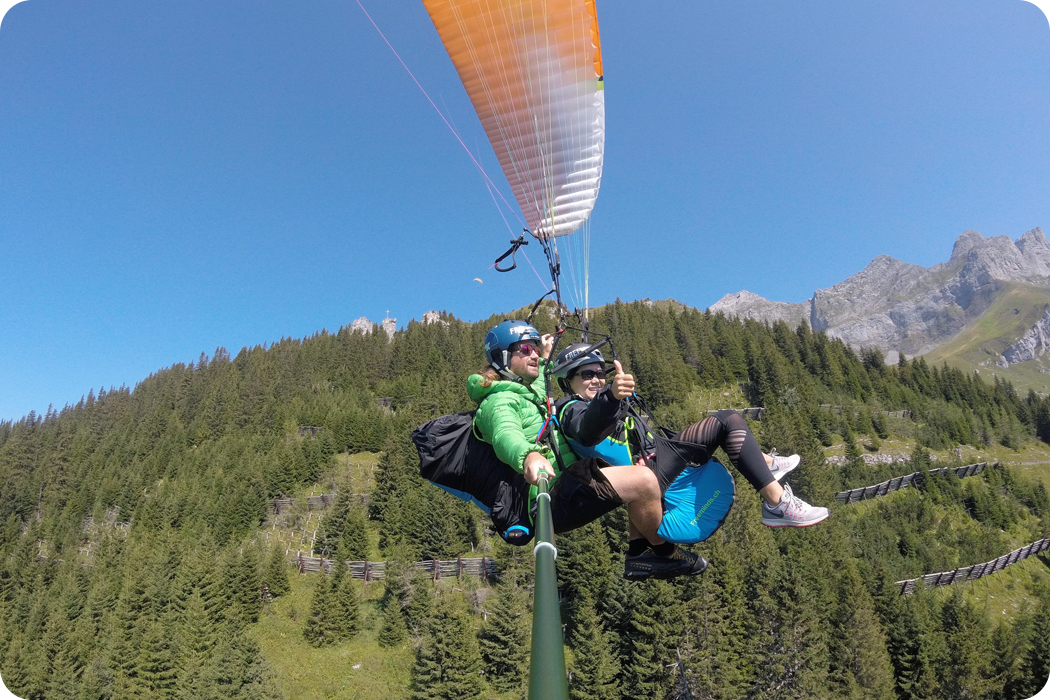 When paragliding is allowed?
Flying is possible all year round, except for the thermal flight, which only takes place from April to August due to thermal conditions. Paragliding is not considered a high-risk sport. Therefore, it is included in the insurance in Switzerland (if you live here). Students from abroad as well as non-employed persons should have their accident insurance confirm that paragliding is included.
You are also welcome to give someone a paragliding flight or a paragliding voucher. It happens very often that whole groups come along to experience this amazing sport. Business or group excursions love paragliding flights as a team event that they will surely remember. Therefore, what are you waiting for?
Are you ready to take off? 
Check our Flight Experiences.
Check out our latest Articles: