Introduction to Via Ferrata - a Weekend of Adventures in Valais
Via Ferrata, literally the "iron path" in Italian, it's one of the most thrilling ways to experience the mountains.
Are you ready for a new adventure? Join our Introduction to Via Ferrata course with experienced mountain guides and conquer the mountains like you never have before!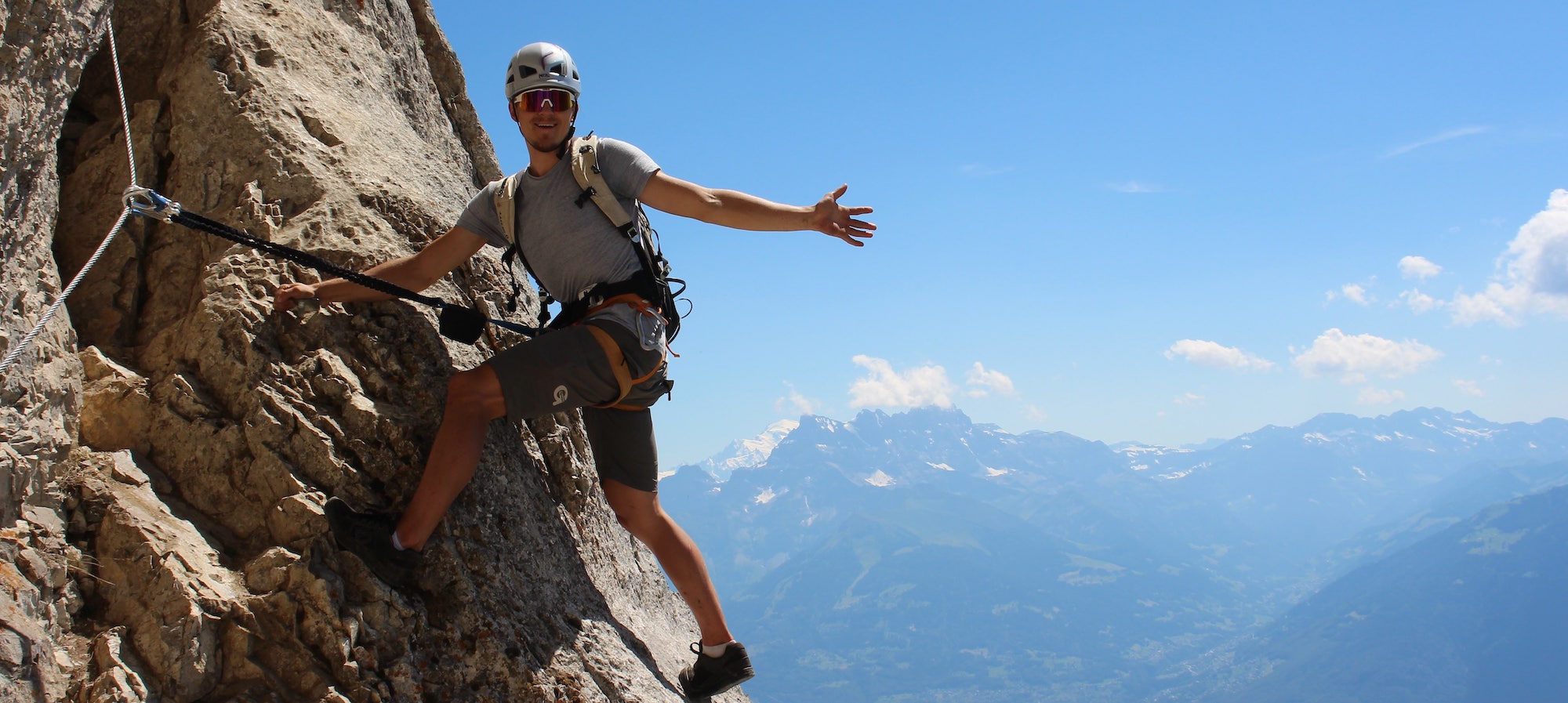 Why should I join the introduction to Via Ferrata course? 
Over the past few years, the number of rescues on Via Ferrata has constantly been rising. A lack of knowledge and experience lay at the roots of most of those accidents. Unfortunately, many underestimate the challenge of traversing Via Ferrata and come unprepared, lacking basic skills.
If you want to start your adventure with climbing, it's vital that you build solid basics with a professional mountain climbing guide.
That's why we created an introduction to Via Ferrata course. This course is suitable for beginners and more advanced climbers who would like to work on their technique and skill.
To participate in our introduction to Via Ferrata course, you don't need to have your own equipment, and no previous knowledge is required. Participants should not be afraid of heights or suffer from vertigo.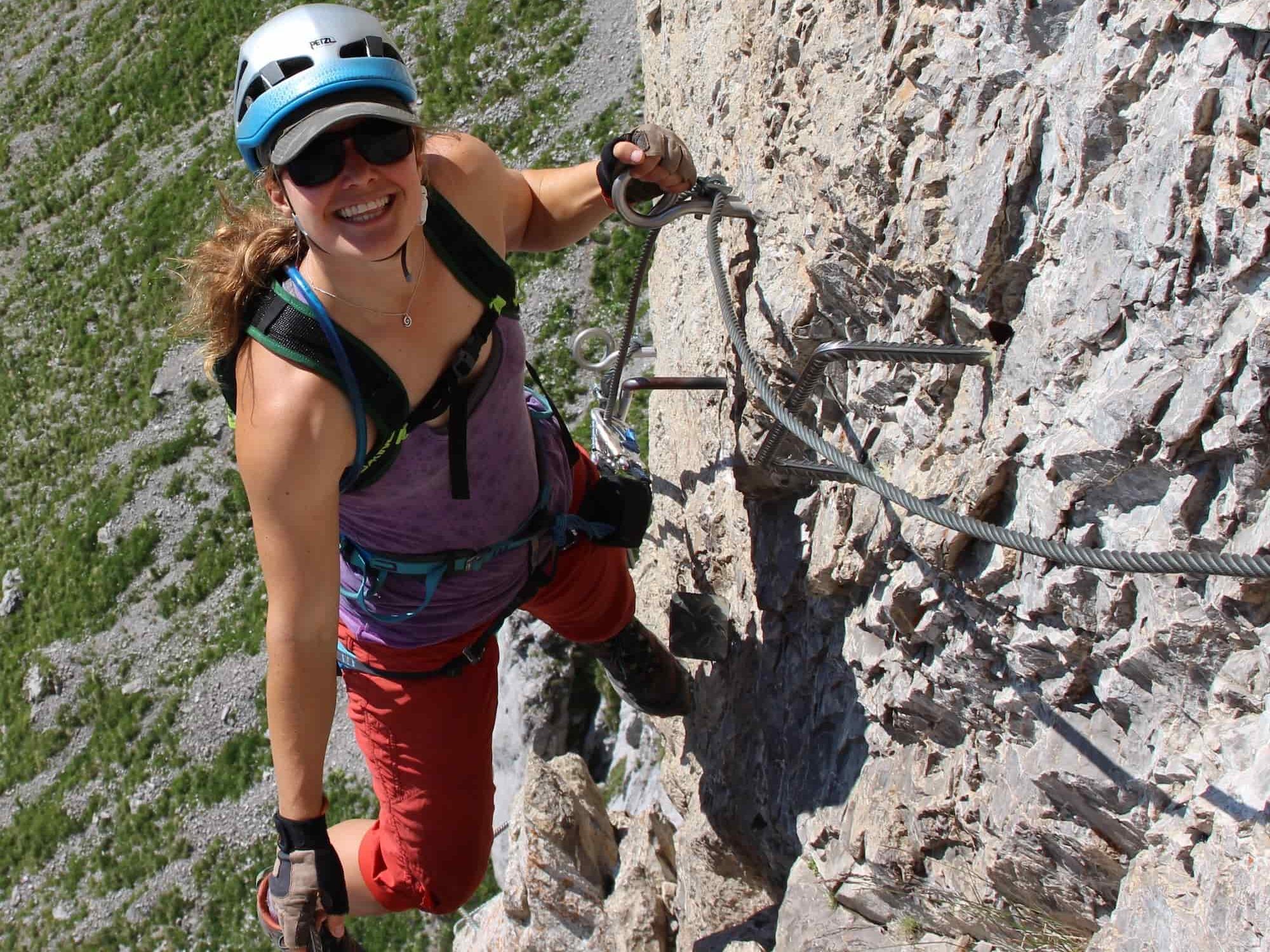 Course duration and content
The course takes place over the weekend, starting on Friday evening and lasting until Sunday. 
During this 2-day course, you will learn the basics of climbing, rope tying, safety measures, and selecting appropriate trails for your skills. We will review several foundational climbing techniques to help you move efficiently in the steeper sections. We also look at the equipment and its correct use. We will talk about planning a Via Ferrata trip, and most importantly, we will get a good idea about our personal competence.
Some of the content you will learn during the Introduction to Via Ferrata weekend course include:
Handling and proper use of safety gear;
Efficient Via Ferrata climbing techniques;
Gear and materials;
Planning tours and difficulty scales for Via Ferrata climbs;
Alpine hazards.
The main takeaway from the Introduction to Via Ferrata course is basic knowledge of the Via Ferrata route planning and preparation. You will be qualified to tackle easy Via Ferrata routes on your own or participate in a more advanced course.
You leave this course richer: with skills, memories, and friends.
"Some mountains only require a good pair of shoes. Others require an entire team to conquer.
Knowing which is which is the key to success."
What is included?
Professional English-speaking Mountain Guides
Specialist climbing equipment (helmet, harness, lanyards, gloves)
Accommodation (2 nights dorm room)
Dinner x 2
Apero
Breakfast x 2
All participants will receive a list of compulsory equipment some days before the course. 
Our mountain guides
Our guides are climbing experts with over 20 years of experience spanning from climbing to hiking, and, of course, teaching and guiding. You can be sure, you are in good hands. They have lived around the world and have an incredible wealth of outdoor experience and qualifications. They all love, work, and play in the Swiss Alps.
We have 1 Mountain Guide for every 8 participants. 
All guides speak fluent English.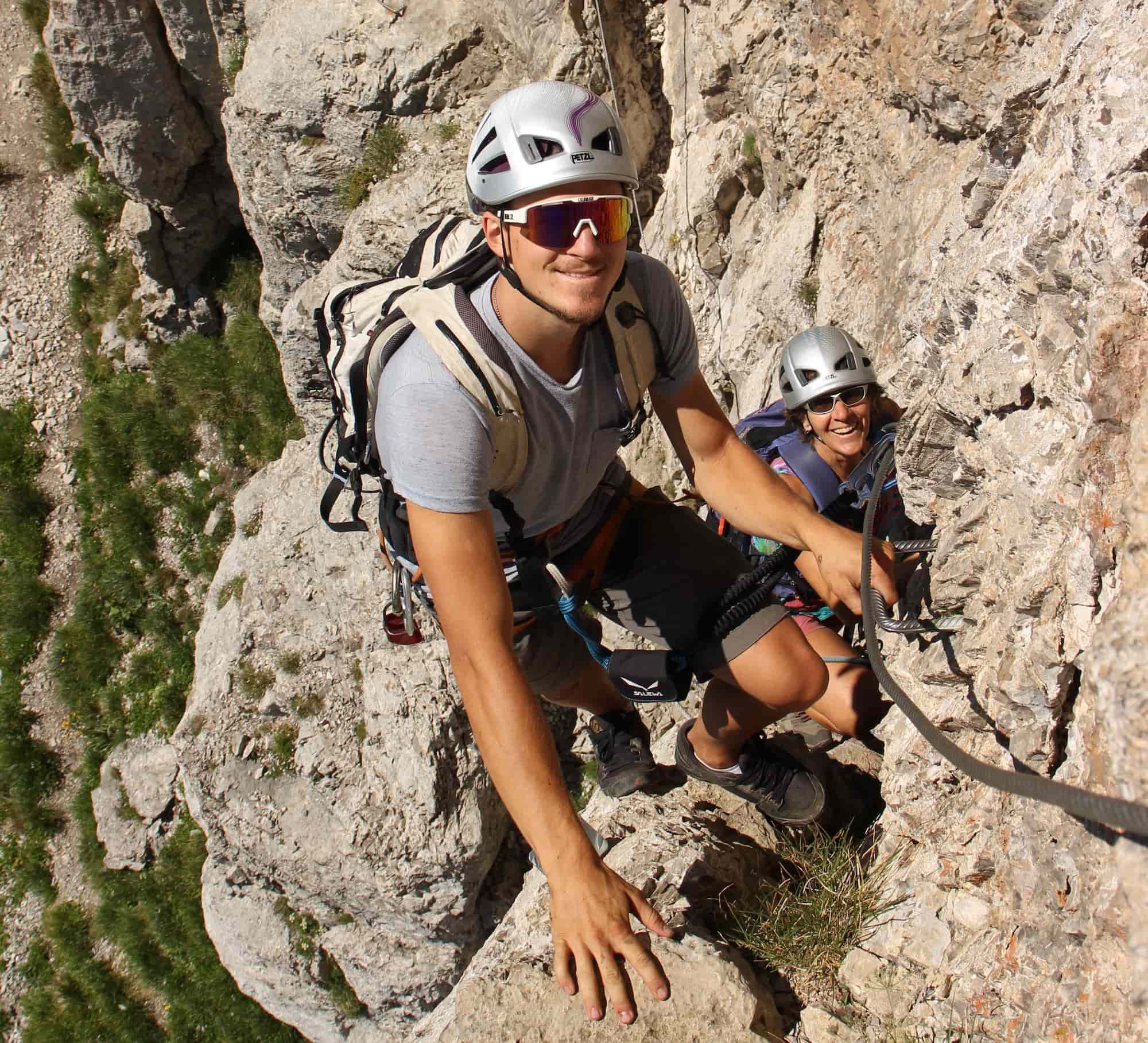 Via Ferratas in Switzerland
Despite the fact, that 70% of Switzerland is covered by mountains, Via Ferratas took quite a while to establish here as a popular outdoor sport. 
It was not until 1993 that the Tälli Klettersteig (Via Ferrata in German), was created in the Urner Alps. 
Today, there are more than 150 Via Ferratas across the country.
Bernese Oberland
boasts 32 routes, while the Canton of Valais has 39 routes varying in length and difficulty.
In central Switzerland, there are 17 climbing routes around Lake Lucerne and 15 in the Canton of Uri. The
Fürenwand Via Ferrata in Engelberg
is considered the "most spectacular" of the region. 
Ready for the adventure?
Are you excited for the new adventure? Join our Introduction to Via Ferrata course and experience the thrill of climbing the rocky face of the sky-high mountains.
Book your spot now and enjoy your Via Ferrata adventure with people you'll call friends for life!
Check out our latest Articles: