Introduction to Via Ferrata – a Weekend of adventures in Valais 
Via Ferrata, literally the "iron path" in Italian, it's one of the most thrilling way to experience the mountains.
Joining our Introduction to Via Ferrata Course with our professional Mountain Guides is the best and safest way.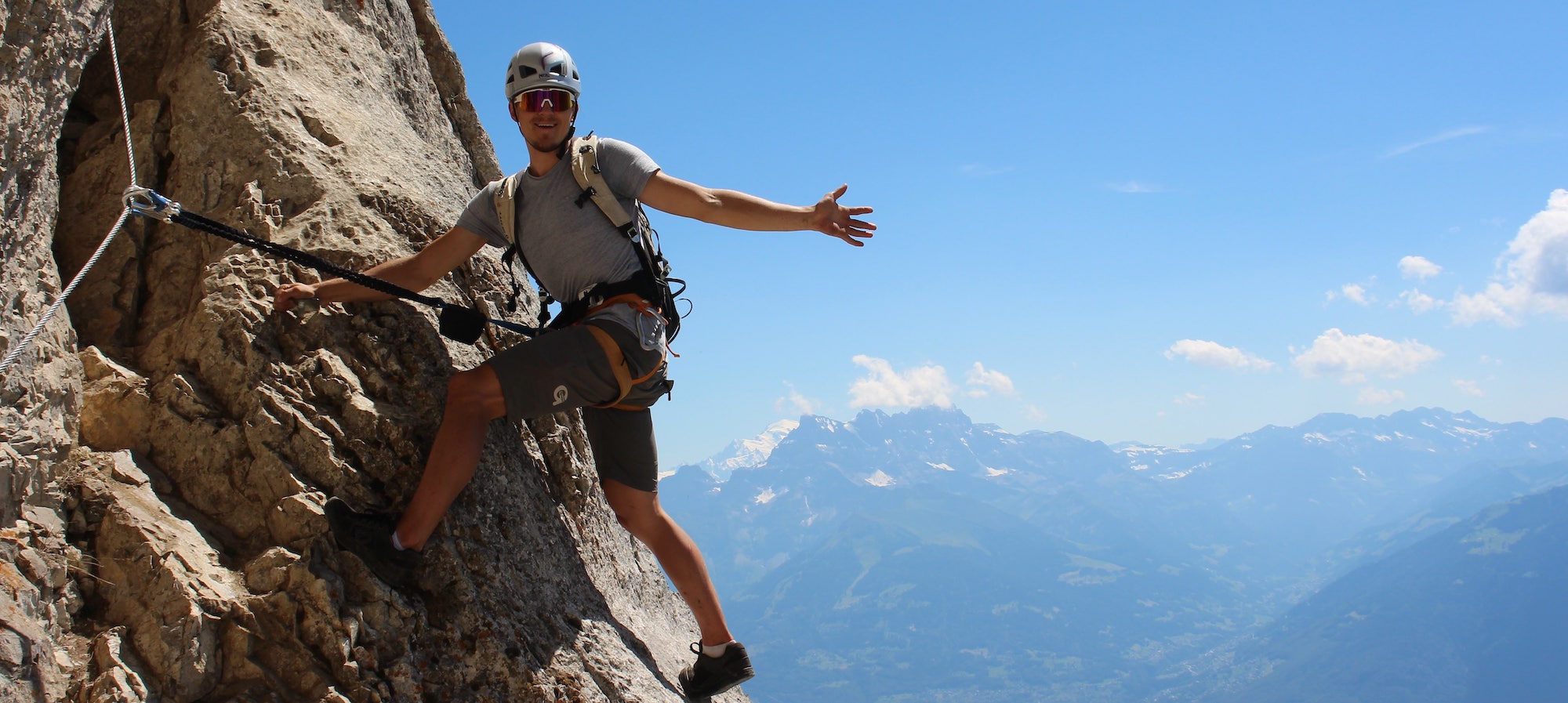 Why should I join the introduction to Via Ferrata Course? 
In the past few years, the number of rescues on Via Ferrata, are constantly increasing. Most accidents are caused by the lack of knowledge and unconscious incompetence.
It's therefore very important that you start Via Ferrata with professional Mountain Guides that can teach you the fundamental of this sport. 
This course is designed for beginners, so no previous knowledge of Via Ferrata is required. Participants should not be afraid of heights or suffer from vertigo.
Course duration and content
The course start on Friday evening and last until Sunday. 
During this 2-day course you will learn the basic skills. We take a look at basic rock climbing techniques that will help you move efficiently in the steeper sections. We also look at via ferrata equipment and its correct use, we talk about planning a via ferrata trip and most importantly we get a good idea about our personal competence.
Some of the content you will learn during the weekend include:
Handling and proper use of safety gear;
Efficient via Ferrata climbing techniques;
Gear and materials;
Planning tours and difficulty scales for via Ferrata climbs;
Alpine hazards.
After this course, you will have the basic skills to tackle easy via ferrata routes on your own or participate in a more advanced course.
You leave this trip with skills, memories and friends.
"Some mountains only require a good pair of shoes. Others require an entire team to conquer.
Knowing which is which is the key to success."
What is included?
Professional English-speaking Mountain Guides
Specialist Equipment (Helmet, Harness, Lanyards, Gloves)
Accommodation (2 nights Dorm Room)
Dinner x 2
Apero
Breakfast x 2
We send also, to all participants a list of compulsory equipment some days before the course. 
Our Mountain Guides
With over 20 year of experience in the mountains, you are in good hands. They have lived around the world and have an incredible wealth of outdoor experience and qualifications. They all love, work and play in the Swiss Alps.
We have 1 Mountain Guide for every 8 participants. 
All guides speak fluently English. 
Join us for some fun and adventures.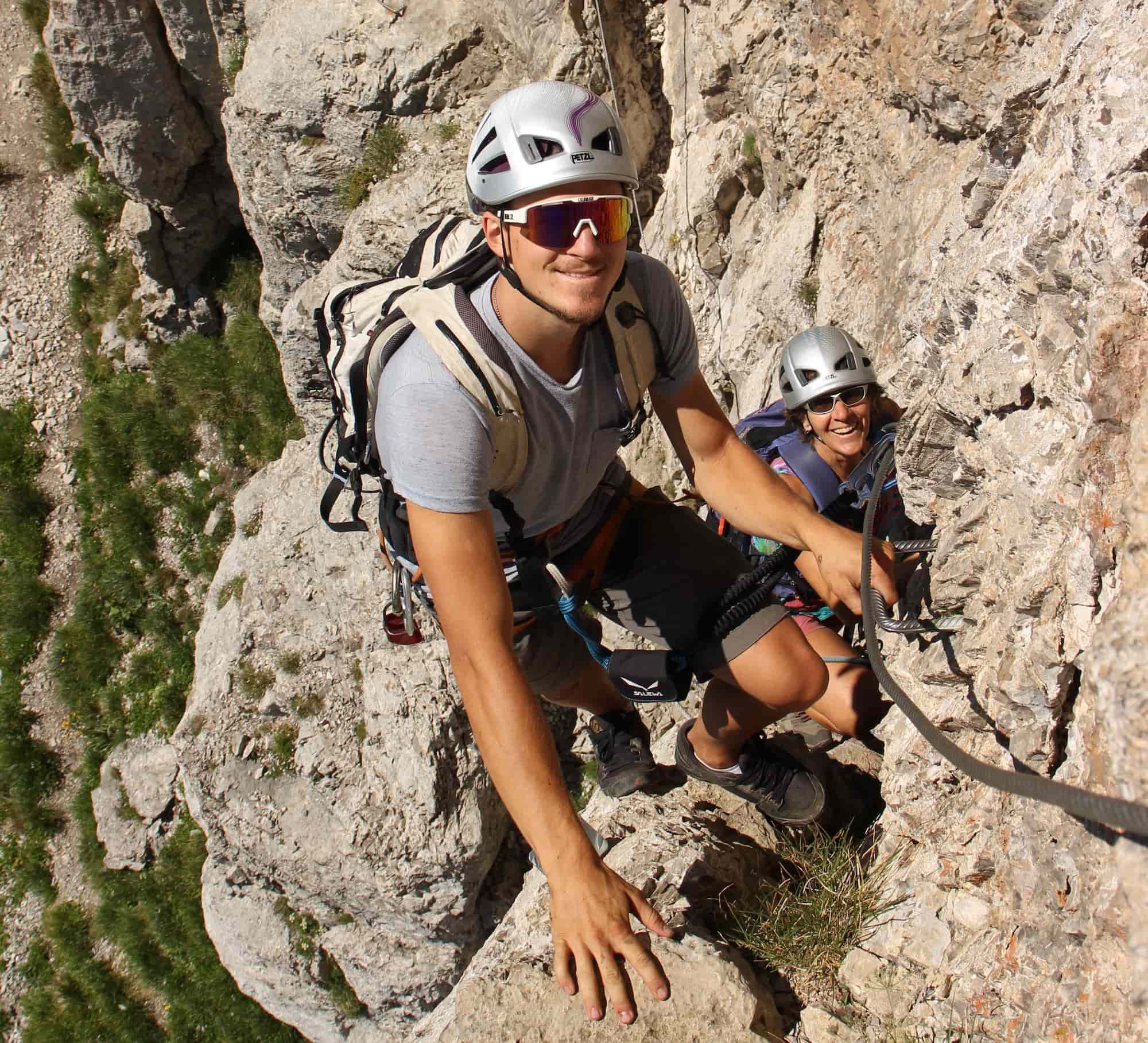 Via Ferratas in Switzerland
Despite its central position in the Alps, via ferratas took a long time to arrive in Switzerland. It was not until 1993 that the Tälli Klettersteig (Klettersteig means Via ferrata in German), was created in the Urner Alps. 
Today there are more than 150 Via Ferratas. 
Areas with a large number of via ferratas are the Bernese Oberland with 32 routes and the Valais with 39 routes. In
central Switzerland
there are 17 around Lake Lucerne mountains and 15 in the Canton of Uri. The Fürenwand Via Ferrata in Engelberg is considered the "most spectacular" of the region. 
The range of routes is diverse and satisfy all tastes: 
– "action-packed" gorge routes (like the Alpine gorge in Saas Fee and Gorner gorge near Zermatt);
– panoramic routes onto 3000m peaks (Jegisteig and Mittaghorn Klettersteig, both near Saas Fee); 
– high alpine challenges (Salbit-Kettenweg near Andermatt); 
– demanding athletic routes (Via ferrata San Salvatore near Lugano). Some outstanding routes are the Braunwalder via ferrata in the eastern Swiss canton of Glarus and the Daubenhorn via ferrata near Leukerbad in the Valais. Also known as Leukerbadner Klettersteig, the latter is also the longest via ferrata in Switzerland.
Ready for the adventure?
Join us and learn safely this sport, make new friends and explore further.
Check out our latest Articles: