What To Pack For The First Ski Trip To Switzerland? An Essential Guide For Stress-Free Packing
Congratulations, you're going to Switzerland for your first ever skiing holiday!
You're probably over the moon and can't wait to go. At the same time, you're completely at loss what to pack for the first ski trip to Switzerland (your Google search history gives you away).
We hear you, our dear rookie skiers! That's why we've compiled a 101 packing guide with 6 skiing essentials that will let you rock the slopes and stroll the resort streets in style. 
No worries, we also made it sustainable.
So, let's get packing!
How it started
It probably went something like this. Several months ago you caught up with some college friends over a glass of wine (or lunch). You talked about kids, work and holidays.
You told them about your holidays to Mexico.
They told you about their latest skiing trip to Switzerland. 
And that made you remember your bucket list with "ski in the Alps" underlined twice. What a coincidence. 
So the same evening you casually browse flight destinations. Suddenly an offer catches your eye. You exchange meaningful looks.
A smooth click "Buy" and a few seconds later your mail app exudes a loud ping. "Thank you for using our services. Your ticket to Zurich is attached. See you soon!".
You've never skied in your entire life. But heck it, it's never too later to try something new.
Months pass quickly and the excitement slowly is building up. Now only days left until your first ski holiday adventure in Switzerland.
It's time to start packing.
As a first-time skier, you're probably confused what to pack. And no wonder: skiing holidays require a slightly different approach to packing than beach holiday. The difference being mostly in wool ratio in your suitcase.
The odds are you've been scrolling through ski gear shops and blogs, asking friends and family, and still haven't gotten a satisfying answer.
But don't worry: My-Mountains team has put together an essential packing guide for all first-time skiers.
Below you will find tried and tested hints and tips about gear selection, our absolute skiing must-haves and a few optional items that will 100% upgrade your stay at a Swiss ski resorts. So rest assured, with us you'll know what to pack for the first ski trip to Switzerland. 
Sounds interesting? Then keep reading.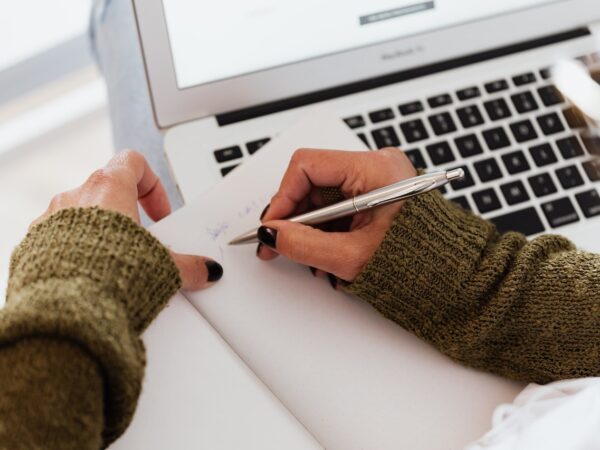 Rent, don't buy and keep it sustainable
A golden rule for every first-time skier we always recommend to follow is not to buy new equipment.
Skiing gear is quite expensive: the price for average set of skis, boots, poles and helmet can easily go up to 1500 $ even when buying used equipment.
It's always more economic idea to borrow and rent your gear.
The math here is simple: as a beginner, you still don't know whether you enjoy skiing enough to make investing a few thousand dollars worth it.
If you don't own a good quality outdoor clothing, ask around family, friends and neighbors. Likely someone will be happy to lend you their jacket and waterproof pants.
As for the skis, poles, and boots, you can be sure every ski resort has at least a few good quality ski rentals. Let a professionals help you choose an optimal gear for your needs. Renting is also a great option because it allows you to try out different equipment before committing to one type of skis, boots, and bindings.
While renting might look costly at first glance, it actually saves you money.
You won't be stuck with gear that doesn't fit you (or you have no need for), it saves suitcase space and the cost of lugging all those gadgets across the borders.
It's also more economic and sustainable to borrow and rent what you don't have and won't need all year round. Especially if you can't say for sure that equipment will ever be used again.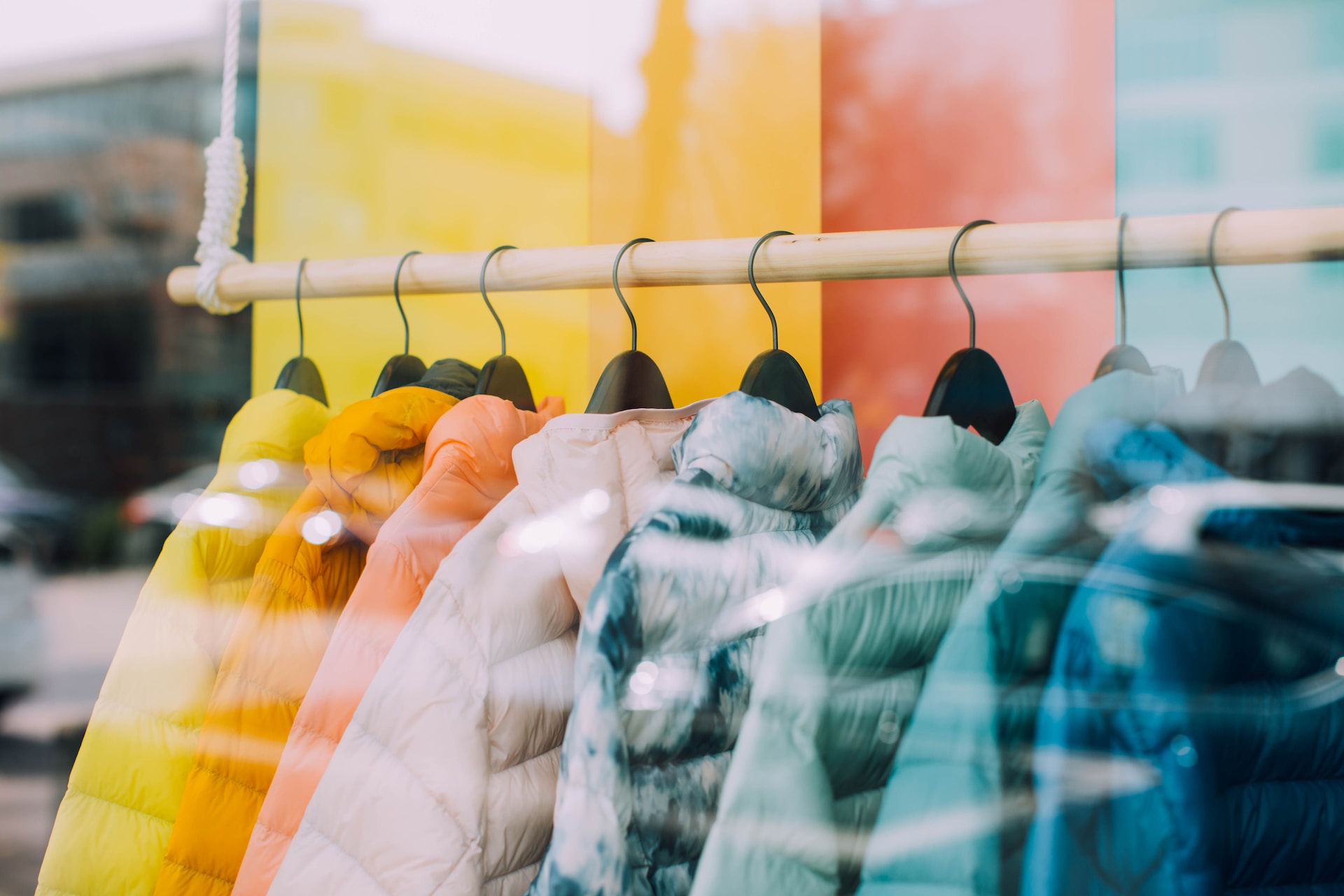 The basics of skiing gear
There is no doubt, that nailing down your skiing equipment is a challenge and can make or break your skiing performance.
As a first-time skier you've probably already got lost in the shapes of skis, binding types, all the parameters and the weird lingo.
But remember, as a beginner, you don't have to worry if your gear is not perfect on the first try. As you progress in your skiing journey, you will learn which type of ski gear works best for you. The most important thing during your first skiing holidays is to stay safe and warm; the rest will come through trial and error.
What to pack for the first ski trip to Switzerland: the absolute must-haves
The absolute must-haves to conquer any mountain in Switzerland and beyond can be boiled down to these 6 things:
Skis
Boots
Poles
Helmet
Outerwear: jacket, pants, gloves
Goggles or sunglasses
To choose your first skis, ask for a reputable ski rental at a ski resort. Professionals there usually have years of experience in selecting best fits for the first-time skiers.
The helmet is another vital part of your gear. 
Remember, it's not just an accessory – it's there to keep your noddle safe.
As a beginner, you will most likely ski at a slow pace, and the helmet might not seem all that necessary.
But remember, snow is hard, and there are many other people on the slope. Helmets can significantly reduce the risk of serious injury. Goggles or sunglasses will protect your eyes from the snow glare. 
"My-Mountains – where travel becomes an
unforgettable adventure."
Layering is the name of the game
Layering is an art – and not just in baking! Choosing the proper items and types of fabrics will make your first skiing experience much more comfortable.
There are a few general rules to follow here.
Many thin layers are better than fewer thick ones.
Breathable materials over non-breathable, period.
Always have an extra layer in your backpack.
Let's break it down.
The base layer should be like your second skin. It's there to keep your body dry. Merino wool or other breathable synthetic materials wick away your sweat and allow undisturbed perspiration. That's because natural wool fibers are hydrophobic: they do not absorb water or smell leaving your skin dry.
Such materials are versatile, long-lasting, and easy to maintain. You will use them again and again for hiking, camping, or visiting friends living in cold climates.
A set of good-quality thermal underwear is definitely a purchase that pays-off. Speaking of underwear, a couple of skiing socks (long and thick, with extra padding on the shin) is also a good investment.
The second layer is the one that keeps you warm – fleece traps heat like a pro but also lets you breathe. We definitely recommend packing a fleece jacket or two in your ski holiday suitcase.
Finally, the third layer keeps you dry from the outside. As for the bottoms, insulated waterproof pants should do the job. Skiing jackets are designed to be waterproof and wind-resistant. They usually have several layers, and the outer shell is made of thick nylon or polyester coated with durable water repellent. 
These three layer should keep you dry and warm throughout the day.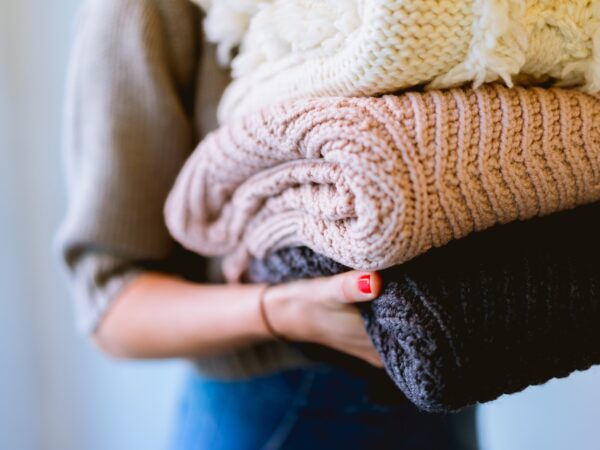 Off-piste style 
There are a few other things on our list of recommendations for what to pack for the first ski trip to Switzerland.
Make sure you have a solid pair of waterproof gloves and a neck warmer or even Balaklava. It's not uncommon in Switzerland to ski above 2,500 m / 8,200 feet above sea level, and those gusts of wind can be really icy.
Lots of snow and sun means snow glare, so don't forget sunscreen, chapstick, or lip balm to save your face from chipping cold. 
Keep it trendy
Skiing lessons usually take half a day so you need to pack some clothes to wear outside the slopes.
Good winter boots are a must, as most of the resort villages are covered in snow throughout the skiing season.
Long wool or dawn coat will definitely come in handy (evenings can get really chilly here!) same as a hat, a scarf and mittens.
If you're planning other winter activities alongside skiing, you will need an extra pair of thinner snow pants and a jacket as your outerwear will most likely be wet from the day's ski lesson.
We recommend getting lightweight and versatile clothing that can be used for skiing, winter hikes, and tobogganing alike.
Apres-ski bars probably have seen people in every attire possible. People come there straight from the slope, so you don't have to worry about looking your best.
But if you wish to go about the resort in style, a few warm and cozy jumpers, turtlenecks and pants should find their way into your suitcase. And don't forget the warm socks!
Swiss ski resort fashion is somewhat a casual mix of styles. You will definitely see people in head-to-toe Mammut outfits (most popular Swiss outdoor brand), some will brandish low-key winter elegance with, depending on the resort, a dash of winter glitz.
Evening entertainment
If you come in company, it might be useful to bring some extra entertainment to while away long winter evenings. Below you will find a few extra items for your "what to pack for the first ski trip to Switzerland" list that will surely boost everyone's moods.
Board games, cards, and books are great companions for a cozy evening on the couch with a mug of tea or hot chocolate. To us, there is nothing better than a board game session in front of a burning fireplace.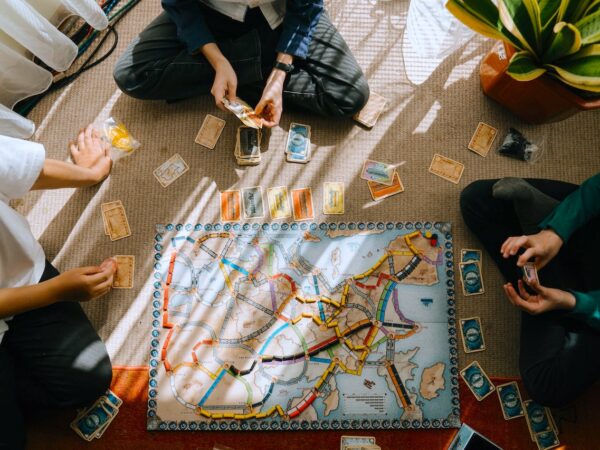 Green ski holiday packing
When choosing what to pack for the first ski trip to Switzerland we recommend that you stick to clothing made of natural fabrics such as wool and cotton.
They are better at keeping you warm and a more sustainable choice. While they might be on the more expensive side, good quality winter items will serv you well for many years.
If you're looking for a bargain, check second-hand stores: they are our go-to places for finding good quality woolen clothes. 
It's always a good idea to pack light. Sure, you don't want to find yourself missing any of the essentials, but more often than not, we don't wear half of the clothes we bring. Fewer and lighter suitcases will make using public transport much easier.
Switzerland is famous for its fast, efficient, and comfortable public transport system. In fact, many ski resorts located in remote areas or high up, like Verbier or Wengen, are only accessible by public transport: trains or airway cable cars. Light suitcases are a blessing when moving from one vehicle to another.
When thinking what to pack for the first ski trip to Switzerland with a green twist, keep in mind that tap water in Switzerland is among the best in the world. Take a reusable water bottle or an insulated flask and enjoy sweet Alpine water to your heart's desire. 
While skiing in Switzerland, remember to pick up the trash after yourself and bring it down to the valley. Waste collection in the mountains is time and energy-consuming; therefore, we should all do our part in reducing waste disposal costs.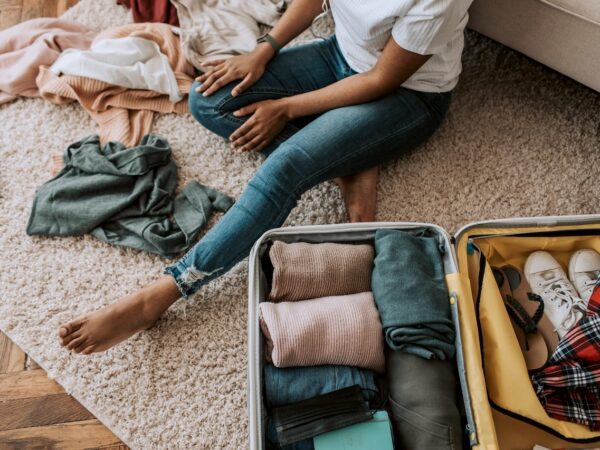 Pack and go!
We hope our guide to skiing essentials will help you decide what to pack for the first ski trip to Switzerland. Less is more, and a few versatile pieces go a long way. Capsule wardrobe containing a few of your favorite winter pieces will make you feel confident and stylish on and off the slopes, and make the best of you first skiing holidays in Switzerland.
Book your personalized ski holiday today
Say goodbye to cookie-cutter ski holidays: with My-Mountains, it's all about customizing your experience to make it truly yours.
Switzerland is a paradise for ski enthusiasts, with its awe-inspiring landscapes, renowned ski resorts, and personalized experiences. Let yourself experience its breathtaking beauty and top-quality services with our personalized ski holiday offer. 
My-Mountains' personalized ski holiday offer ensures that everyone can embark on their dream ski adventure.
Whether you're a seasoned skier or trying it for the first time, Switzerland awaits you with open arms. 
Let it amaze you.
Check out our latest Articles: