What are the the best ski resorts in Switzerland?
Switzerland, the country of mountains, cheese and watches is also known to be a true paradise for winter sports. Skiers are spoilt for choice with a selection of excellent ski resorts. Having difficulty choosing the best one for you and your family?
Here are our top 6 picks for the best skiing resorts in Switzerland.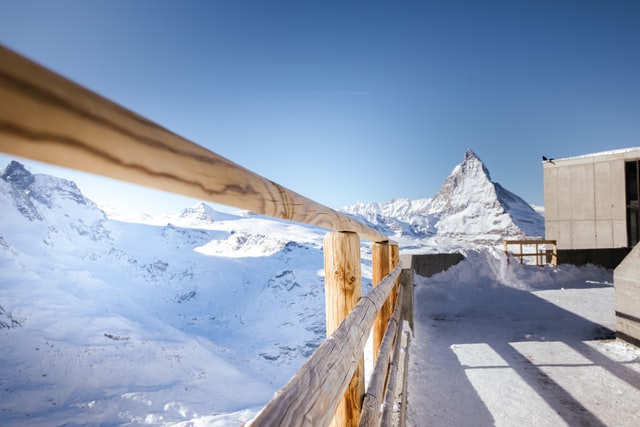 Switzerland – the skiing paradise
With its breathtaking Alpine landscapes and long winter seasons, Switzerland in a true paradise for all types of winter sport aficionados. Hundreds of well-maintained pistes and free-riding areas, together with fantastic amenities, dense network of lifts and convenient transportation offers make Switzerland a true skiing heaven. The country's fame and endless choice of resorts and landscapes draws thousands of skiers every year. From lifelong pros to absolute beginners, everyone wants to enjoy what Swiss winter paradise has to offer.
With so many great options to pick from, you might be asking yourself which ski resorts in Switzerland would be the best choice for you. How to find resort that will suit your needs and provide the best experience? Whether you are a beginner or you ski like James Bond, whether you come alone or with a big family, Swiss Alps cater to everyone's tastes.
Here's our top 6 picks for best ski resorts in Switzerland.
#6:
Engelberg
Only 1 hour from Zurich, this amazing destination is one of the most popular and one of the best ski resorts in Switzerland. It's perfect for family ski trips as well as for powder lovers.
Indeed, Engelberg and Mount Titlis are famous all over the country for both its beauty and its slopes. Of course, when coming here, forget about the quiet mountain atmospheres and solitude: tourists from all over the world ascend to the Titlis' summit year-round with an amazing revolving cable car.
Don't worry though. There's space for everyone! More than 80 km (50 miles) of slopes welcome both beginner, intermediate and expert skiers. This is a perfect destination for family trips, where kids have all the time and space to learn how to ski and refine their skills.
On the other hand, freeriders can enjoy endless powdery snow in compelling expert ski terrains. There's certainly a whole range of good reasons to visit this ski resort.
Variety of Restaurants on the slopes
Activities for non-skiers
"A bad day skiing beats a good day at work"
#5: Davos
Davos had to make it to our list of top 6 best ski resorts in Switzerland. Davos is the highest situated city in Europe (1,560 meters above see level) and it's famous for annually hosting the World Economic Forum. Surrounded with picturesque summits of Lower  Engadine range, Davos boasts about 80 downhill runs and about 250 km (155 miles) of slopes. It is simply a must-visit Swiss Ski Resort. It is perfect for its extensive network of linked intermediate pistes. It offers five separate ski areas: Jakobshorn, Parsenn, Pischa, Madrisa and Rinerhorn.
The Parsenn ski area is accessible from Davos and Klosters and it's the largest of the five ski resorts. All ski areas offer different type of slopes, making it the perfect destination for those who need to practice as much as possible and refine their skills. On the other hand, it's also suitable for those who want to ski at their intermediate level immersed in an unforgettable cornice.
The town is small and modest, but offers optimal services and facilities. Ultimately, Davos really is a great place to slow down and tune out the bustle of high adrenaline and top-rank destinations. It's especially popular among Nordic skiers who can also enjoy lighted cross-country ski trails at night.
Variety of Restaurants on the slopes
Activities for non-skiers
#4: Verbier
If you are looking for countless pistes for expert skiers, Verbier should definitely be on your list. Besides long, well laid, and challenging alpine runs there are plenty of backcountry terrains turning this place into one of the best ski resorts in Switzerland for off-piste skiing. Still not convinced? The Tortin is well known for being one of Europe's steepest descents.
Verbier is part of the skiing area called 4 Vallées and offers 202 kilometres of slopes.
Verbier should come onto your radar if you're looking for luxury ski trips. With its luxurious facilities and services, Verbier is top destination for skiers looking for both adventure on the piste and royal treatment off of it. 
Variety of Restaurants on the slopes
Activities for non-skiers
#3: Zermatt
Considered by many one of the top ski resorts is Switzerland not only thanks to its top-class slopes and powdery snow, but also for its après ski culture.
Zermatt, together with the neighboring Italian Resort of Cervinia, offers about 360 km or 225 miles of winter slopes. In summer, you can still enjoy around 21 km of slopes.
Besides, Zermatt is the highest winter sports area in the Alps, ranging from 2,500 to 3,900 meters (8,200-12,795 ft) and counting more than 2,135 meters (7,004 ft) of vertical drop, i.e. the greatest vertical drop in Switzerland. Last but not least, Zermatt also has the most iconic mountain in Europe: the Matterhorn.
In the village of Zermatt, one experiences the history and traditions of alpinism as well as the modern life of the Matterhorn village. 
You can find any type of accommodation here, but if you are planning your Christmast Holidays here we recommend you to book way in advance as it gets busy very quickly. 
Zermatt is a really unique Swiss Village wich is totally worth to pay a visit. Only the view of the Matterhorn will leave you speechless. 
Variety of Restaurants on the slopes
Activities for non-skiers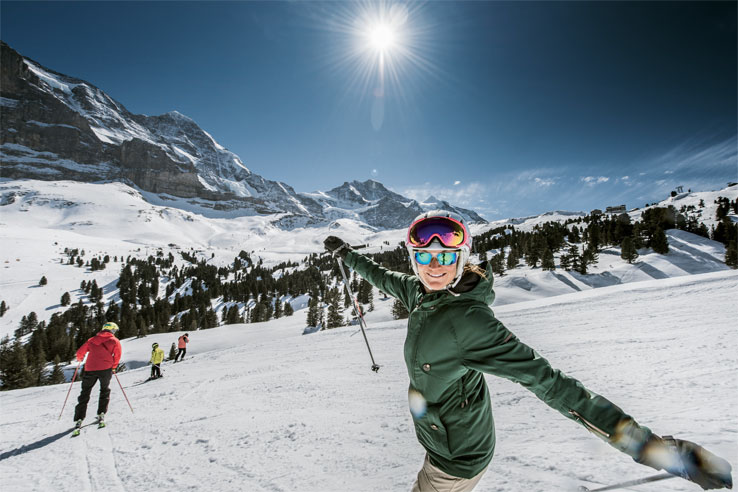 #2: St. Moritz – a capital of winter sports 
Who doesn't know St. Moritz?
It's is probably one of the most famous skiing resorts in Switzerland. Its atmosphere is glamorous while the slopes are a real masterpiece. It should also be noted that it hosted the Winter Olympics twice which is one of the reason why its pistes are the venue for many world ski events.
The great thing about St. Moritz is that its runs are for everyone. Apart from with highly challenging slopes, there are plenty of fun and easy ones for beginners and intermediates alike.
Here you can find 9 snow-sure ski areas with 88 pistes totaling 350 unforgettable kilometres waiting for you, promising days of boundless ski and fun. The three large ski areas with spacious slopes are: Corviglia, Corvatsch/Furtschellas and Diavolezza/Lagalb.
Variety of Restaurants on the slopes
Activities for non-skiers
#1 Jungfrau Region – a gem among the ski resorts in Switzerland
Jungfrau Ski Arena undoubtedly belongs to the top 3 best ski resorts in Switzerland and its our personal favourite. Its three skiing arenas spreading between Mürren and Grindelwald offer unforgettable skiing experience with a view on the famous mountain trio: Jungfrau, Eiger and Monk. 
This area offers around 220 km of runs, majority of which are classified as red, perfect for intermediate skiers. Dense network of gondolas and chairlifts connects the three main skiing terrains for a limitless joy of skiing. Powder lovers can take advantage of an extensive freeriding terrain on the slopes around Grindelwald-First.  
The region has a lot to offer for non-skiers as well, including the famous Jungfraujoch train ride, which takes you to the highest train station in Europe, as well as snowshoe hikes, paragliding, tobogganing and the longest sledding run in the world: experience a staggering 24 km of pure entertainment!
With many restaurants and après-ski bars, excellent transport and top-class amenities Jungfrau region has to be listed among the best ski resorts in Switzerland. 
Jungfrau Region: our votes
Variety of Restaurants on the slopes
Activities for non-skiers
Are you planning a ski holiday in Switzerland?
We designed beautiful ski safaris in the best ski resorts.
Check out our exclusive ski packages or contact us. We are happy and ready to help you. 
Discover the best ski resorts in Switzerland with us
My-Mountains is committed to provide unique experiences to its customers. We strive to design unforgettable adventures in Switzerland to ensure you get the best out of your trip in the mountains. We carefully selected the best ski resorts in Switzerland, all of them showing a variety of exciting features, which are among some of the best in the world.
Check out our latest Articles: