Learn How to Ski in Switzerland This Season
Has skiing been always on your to-do-list? It's time to have it ticked off.
Learn how to ski in Switzerland and enjoy unforgettable moments in the pristine white landscape. Our team of professional English-speaking ski instructors has put together a list of their tips and tricks to improve your first skiing lessons.
Let's go!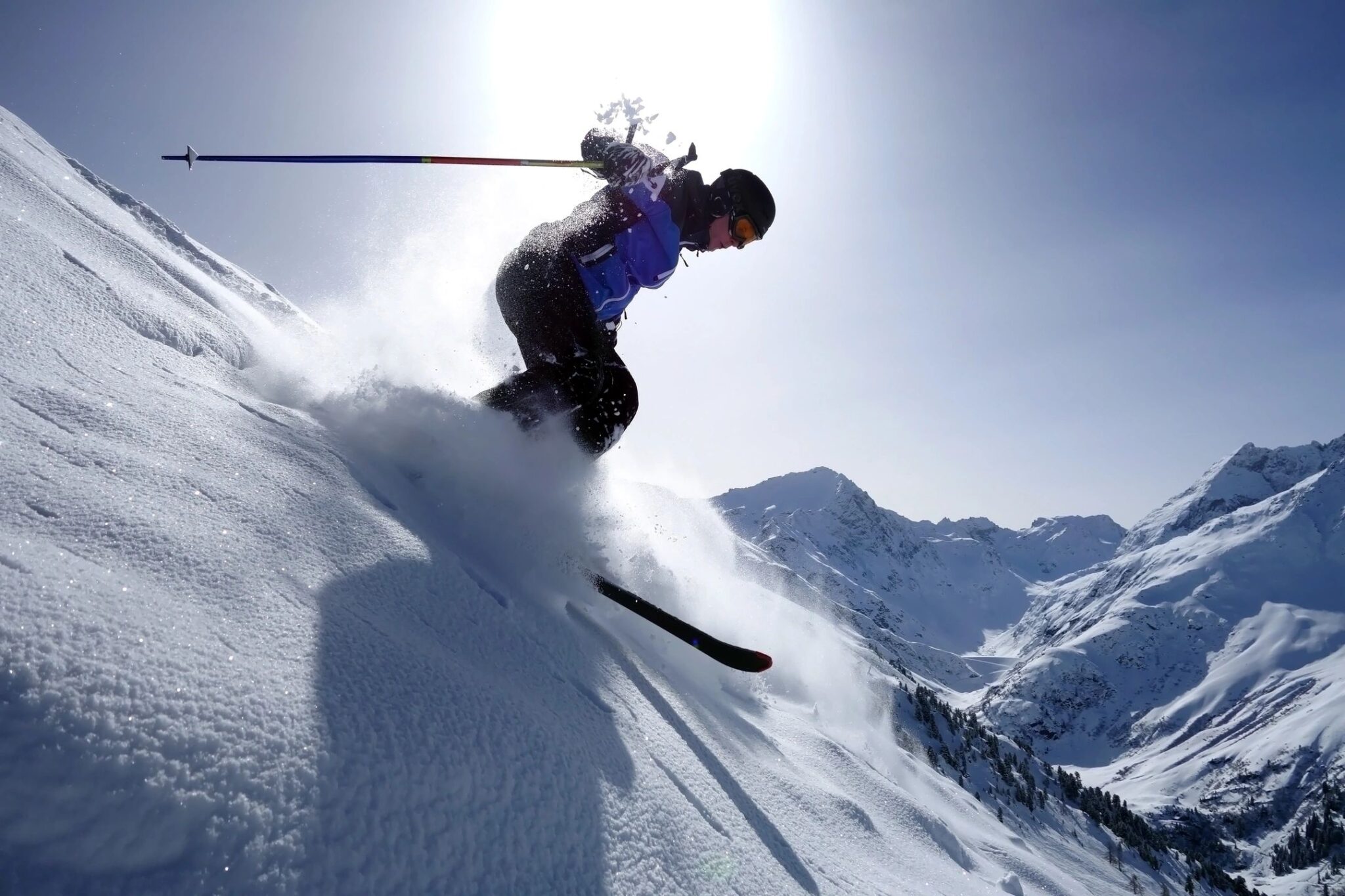 Winter is coming: prepare yourself and learn how to ski in Switzerland
A skiing holiday is a great way to relax. What could beat a daily dose of fresh air, sun, lots of exercise, new fun challenges, and active time with friends and family? If you are yet to try skiing, we say – go for it.
If your family wants to go skiing on your next vacation, but you don't know how to ski, go ahead and plan that ski vacation anyway. You can learn to ski in Switzerland and have a great time doing it. You don't need to know the first thing about skiing before you arrive at the resort. All the knowledge and skill you will need is there waiting for you. Don't be surprised to see yourself skiing down a mountain with your ski instructor after an hour of your first lesson.
First of all, you need to know that skiing is relatively easy. Yes, it may seem difficult at first, but when you give your body time to adjust to the new type of movement, you'll be surprised how fast you can start enjoying skiing. 
If you want to learn how to ski in Switzerland, the good news is that most resorts have a ski school for children and adults on the premises. The lessons are usually reasonably priced and convenient to book. Typically both group and private lessons are available, and scheduling an appointment before you arrive at the resort might also be a good idea. This way, you'll ensure you can get a spot or a private lesson with a ski instructor, even during high season. 
"Skiing is a dance, and the mountain always leads"
Reason to learn how to ski in Switzerland
Our experience says: it's better to learn skiing with a professional instructor. Why? It's easy to fall into the trap of poor technique without proper guidance. And that can lead to dangerous situations. That's why we say: always ask a good instructor to show you the basics. It's more accessible and much safer than trying it entirely alone.
All ski resorts provide lessons for beginners, and it is a good idea to start there. Before you decide to learn how to ski in Switzerland, you need to know that the rate you can progress will depend on the time and effort you will put into the lessons. As we said, learning something new is exciting – but also challenging. It's great to take a leap and decide to learn a new sport. 
Many ski instructors will be more than happy to help you when you choose to take it. But remember, be patient and kind to yourself when things get complicated. We promise it will get progressively more manageable, and in no time, you'll be conquering red and black pistes.
Most ski instructors start by showing you how to handle your skiing equipment. It sounds easy, but there are a few tricks. For instance, skiing boots require you to bend your knees slightly forward. That's because when skiing, you will incline forward toward the slope. Ski boots are pretty stiff, which makes walking in them quite hard. You will need to get used to a different type of gait. But don't worry, after 30 minutes you'll be running. And at the most challenging moment, when you think you'll never progress, our team will support you.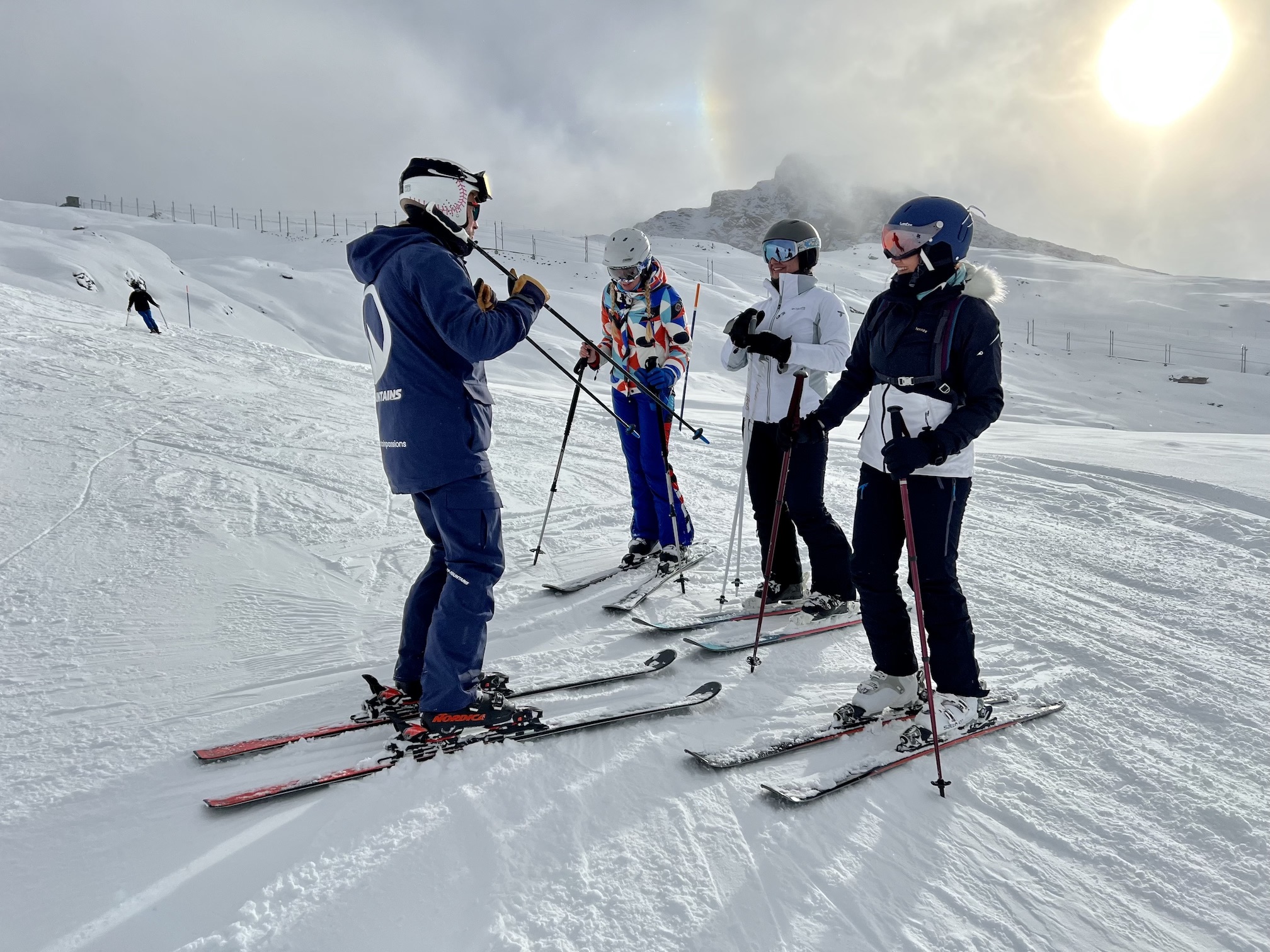 Learn how to ski in Switzerland: lesson number one
The first manoeuvre you will learn is called the plow or snowplow. In this technique, you form a literal snowplow with your skis by keeping the tips close together and the rear ends far apart. Some fondly call this technique "pizza slice". To stop, you have to put pressure on the back ends of the skis, and as they move further apart, you come to a halt.
To make a turn, you need to guide your skies one way or the other. Bend your knees and lean in one direction, depending on which direction you want to go. To turn right, lean your body to the left. Voila, you're turning right.
It's easy to control your speed by adjusting your ski snowplow. Pull your skis back together if you want to pick up the pace. To slow down, push them further apart.
You'll need about an hour to learn how to ski with the snowplow, even if it's the first time you'll wear skis. The Swiss instructors are among the best in the world – there is a reason why all Swiss people are good skiers. So be sure that when you learn to ski in Switzerland, you can ski everywhere else.
What's next? That's it for now. It's time to practice your snowplow. That's the beauty of skiing: even this simple technique will allow you to ski down a slight slope. That's right; you are ready to ski. Get on the lift, head up the mountain, and try it!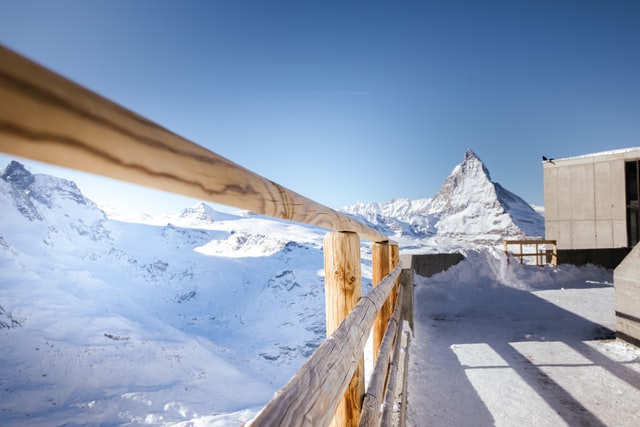 Tips for beginners
As a beginner, you should stick to the trails designed for beginners. At most resorts, these trails are marked with a green emblem. On the other hand, blue runs are for intermediate skiers, and after one day of skiing the beginner trails, you may be ready for those trails. 
Finally, the red and black slopes are for experts. These trails can be dangerous for people who don't have the skill level to handle them. Therefore, we advise you to avoid these slopes until you have had more experience. You will know when you are ready. Skiing is excellent not only as an exercise: it can also give you an intense adrenaline rush making you want to ski down that mountain again and again.
Are you ready and excited to learn how to ski in Switzerland?
Most people who want to learn how to ski in Switzerland often choose the resorts that can offer something more than just skiing (though Switzerland has arguably the best European ski resorts.) Switzerland might be small in size, but its selection of tourist attractions and top-quality facilities make it a sought-after destination.
At My-Mountains, we work with many local ski instructors and ski schools. Check our skiing packages or design your skiing adventure. We are happy to provide individual and group ski lessons for every level. 
Check out our latest Articles: