Engleberg Ski School - Learn How To Ski Near Lucerne
You've decided: this year is the year when I learn how to ski.
Congratulations! You've embarked on a fantastic adventure.
Now, it's the time to decide how to achieve your goal. While common advice to hear is: "Just put on the skis and try", there's more to skiing than being able to swoosh down the hill.
We recommend learning to ski with a professional instructor.
Here is why.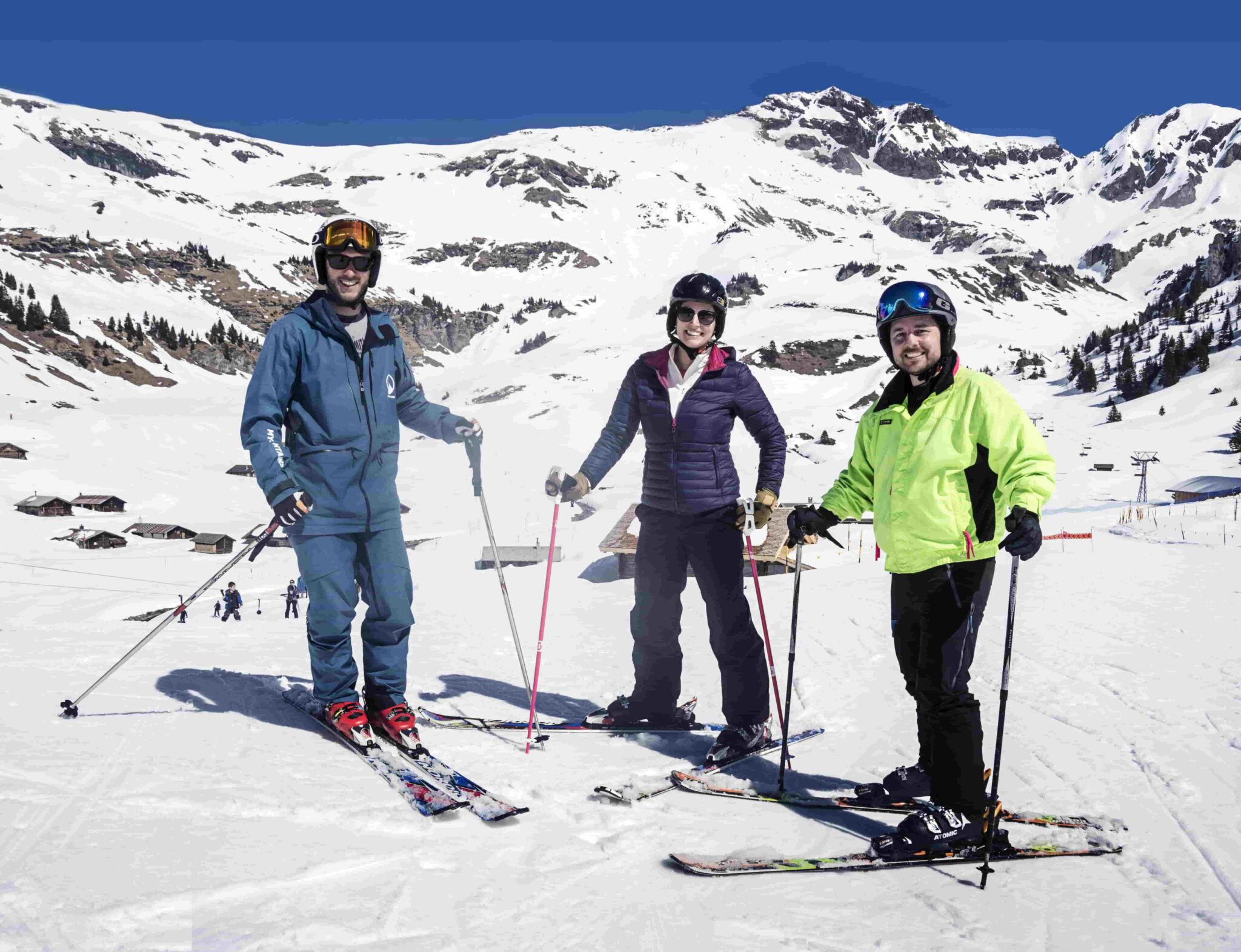 Skiing is a fantastic sport but requires a bit of practice before you can enjoy it fully.
If you don't have anyone to show you how it's done, it's easy to fall into the wrong habits that may lead to injuries.
That's why learning with a professional English-speaking ski instructor should be your way to go. But how to choose the right one?
In this article, we would like to share a few tips on how to choose a ski school (with focus on Engelberg ski school) and tips on finding the best ski instructors through qualities a good ski instructor should have.
Why is it better to learn skiing with an instructor than on your own?
Many people will tell you to simply rent a pair of skis, poles, and a helmet and hit the green slope.
It's not that simple, though.
Like in every sport, skiing requires building solid foundations to build on as you progress. Plus, starting something from scratch is very daunting. Having a professional English-speaking ski instructor at your side makes things much easier. 
Instead of leaving you to your own devices,  your instructor will start by demonstrating how to handle the equipment correctly and how to stay safe on the slope.
Then, they will proceed with a warm-up and a few basic exercises, followed by ground rules of skiing. This knowledge will make your first run much easier than just going at it without any preparation. 
Who benefits the most from a ski lesson with an instructor?
To put it simply – everyone! Regardless of your ski level, a session with a ski instructor can be beneficial for your overall performance. Beginners will acquire proper foundations they can build on later. Intermediate skiers will gain confidence skiing on more difficult runs and refine their techniques. Advanced and pro skiers will get personalized advice on their technique and, if they want, try something new, like off-piste and telemark. The ski learning journey never end – and that's the beauty of it. 
How do you choose the best Engelberg ski school?
As many people who choose to come to Switzerland for holiday, you probably have Lucerne on your radar.
If you live in this beautiful country, you probably know that Lucerne is located very close to wonderful ski arenas. One of them is Engelberg.
Engelberg is a great choice for a ski day experience.
Here are a few reasons why:
It's incredibly close to Lucerne: only 40 min by train and less than 2 hours from the nearest airport.
It's perfect for the first ski experience in Switzerland: gentle slopes, many winter attractions besides skiing, and great restaurant options make it a fantastic starting point to your skiing journey.
If you desire some skiing thrills, you can ski on the Titlis glacier
Brunni and Gerschnialp ski areas in Engelberg are beginner-friendly.
As it's so close to Lucerne, you don't need to worry about booking an overnight stay. Simply board a train back and enjoy dinner in Lucerne.
Plenty of great ski schools and private ski instructors are available in Engelberg, including My-Mountains.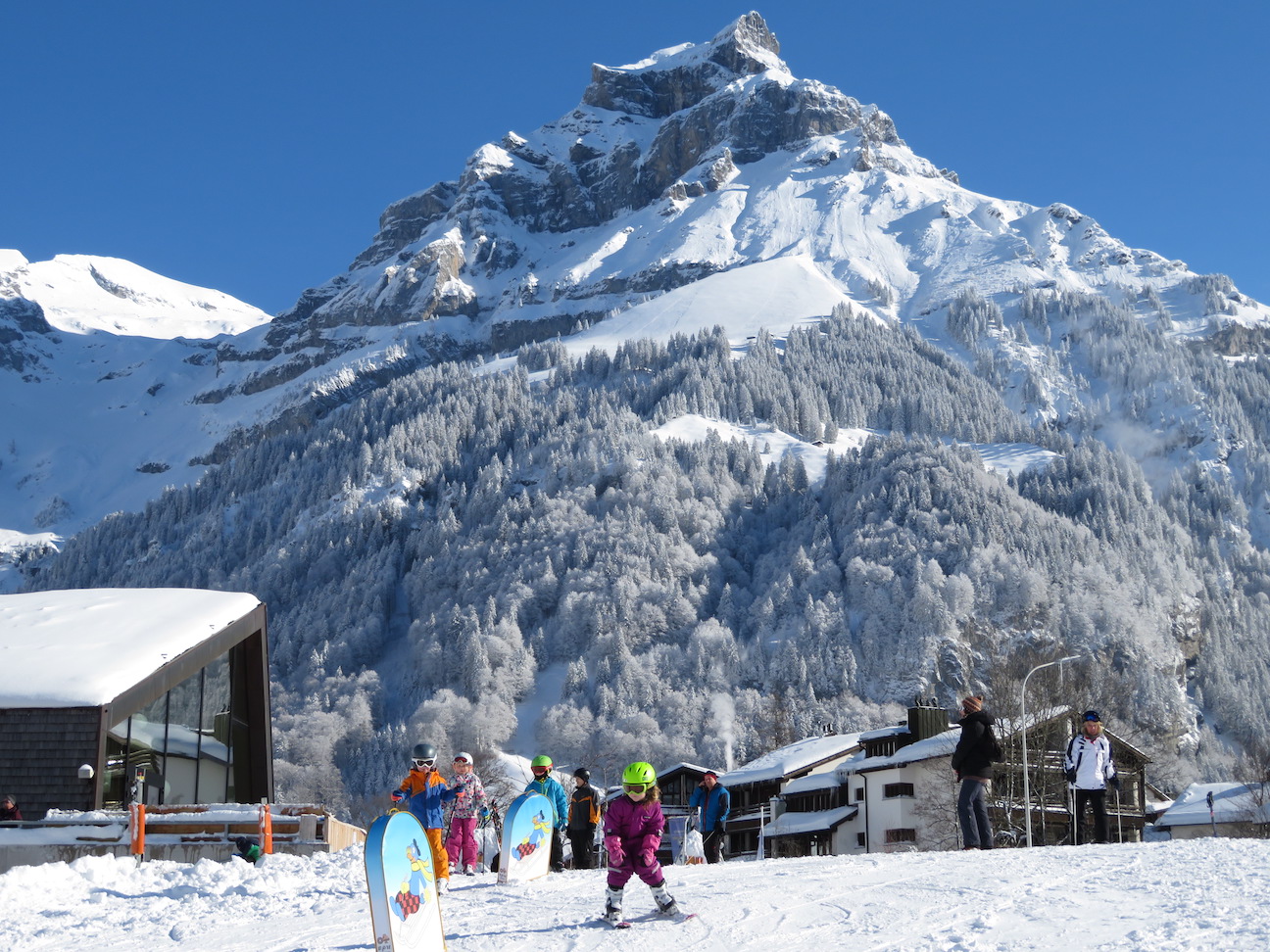 Who are the learners?
When choosing an Engelberg ski school or a private ski instructor, make sure to check if they provide lessons for your age and skill level. Some schools target children; other instructors only teach adults.
If you're trying to find a school for a group, make sure you communicate the group size; some instructors do not teach groups larger than two or three.
Similarly, if you want to have an individual lesson, make sure to convey that information: some schools accept only groups.
What qualities to look for in a good instructor?
Choosing the right ski instructor is essential for a successful learning experience. Just like every teacher, they have to be able to pass on knowledge and skills effectively, using methods adapted to the student. But that's not all. Other qualities a ski instructor should have are:
Patience – they must be able to stay calm, patient, and understanding. Making mistakes and trying a few times before finally mastering the skill is normal. They should be ready to help you repeat the exercise as many times as needed!
Friendly and fun – it's not only about learning, it's also about fun! Ski instructors should create a positive atmosphere and help you enjoy your first skiing lessons. 
Trustworthy – trust comes from professionalism. See if they communicate well, show up on time, and know the resort well. Besides knowing how to pass the knowledge, you should feel heard and valued. the learning plan should be crafted with your skills in mind. The feedback they give you should be communicated simply and should be manageable to put into practice immediately.
At Engelberg ski school you can be sure to find instructors that tick all the boxes and will make your ski day fund and fruitful.
"Life is too short to ski badly."
The perfect family-friendly Engelberg ski school
My-Mountains is known for delivering professional service to individual clients, groups, families and kids alike. Skiing is our biggest passion and we want to share our joy with everyone.
My-Mountains' instructors from Engelberg ski school chose a small resort called Brunni, nestled on the east side of the mountain, to be their headquarters. It's suitable for beginners who are allowed to ski on blue runs.
Besides, Brunni has plenty of family-friendly attractions. The resort offers toboggan runs and exciting activities at Trübsee snow park so that nobody will be bored. 
Fun for experienced skiers
Experienced skiers can also benefit from joining Engelberg ski school. Professional ski instructors can help you polish your on- and off- piste skills, giving you more options to enjoy Engelberg and Titlis glacier arena, a paradise for advance skiers. 
The Laub run falls 1,000 m (3,280 ft) down along a steep face with splendid views of the town. Galtiberg's run, on the other hand, is less popular and ends among trees and streams. Here, you need the assistance of an experienced guide. If you love a bit of adrenaline rush, we also advise you to try off-piste skiing. The best route leads from the top of the Jochpass area to Engstlenalp. However, it's advisable only for pro skiers.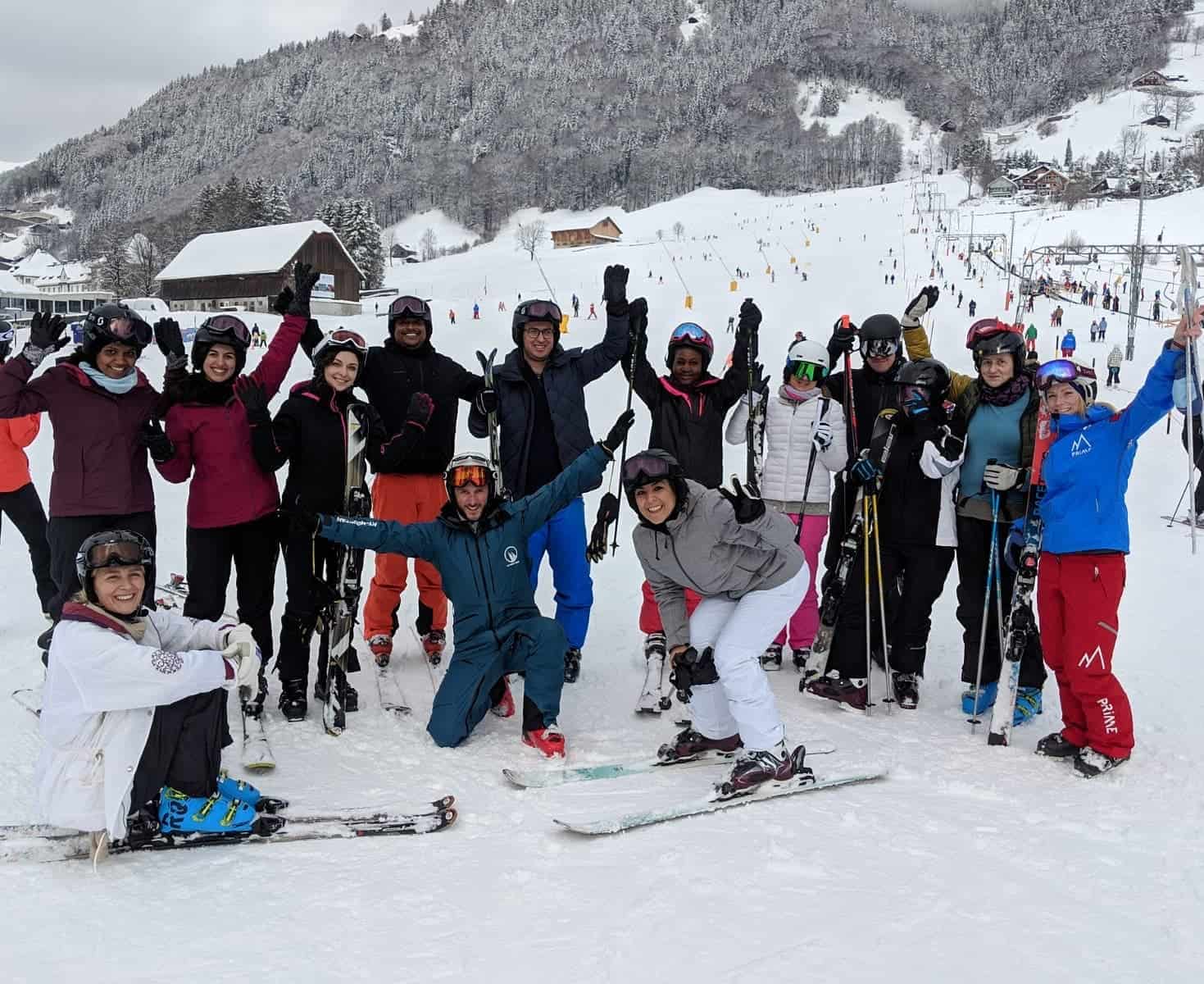 How to search for a good ski school?
We advise you to read reviews online to find the best skiing school for your needs. Of course, reviews are subjective and need to be taken with a pinch of salt. Look for services and qualities that are the most important to you: for instance, that the school is perfect for beginners, or it runs family skiing classes, or that it has English, Spanish, or Italian-speaking instructors.
Engelberg ski school: our classes
Group ski lessons
If you'd like to polish your skiing skills and at the same time make unforgettable memories, we recommend booking group ski lessons. During a day in the snow, we will work on your skiing technique and show you other attractions, such as sledding, cliff walks, and tobogganing. 
Group ski lessons are a favorite pick among big families coming for a family reunion winter holiday in the Swiss Alps. This way, they can have fun together regardless of their skiing skills. Fun activities in the snow are a perfect way to bond and make new memories with your loved ones.
Private ski lessons
On the other hand, those who enjoy peace and would like to focus on improving their technique will benefit from our private ski lessons. We offer one-on-one lessons with highly qualified ski instructors who will assess your skills and prepare a tailored learning plan. 
Our fully qualified ski instructors are available for all levels of ski lessons. You can book them on My-Mountains Engelberg ski school, waiting to make some unforgettable snow tracks with you. 
Check out our latest Articles: