Guided Hikes in Switzerland.
Get The Most Out Of It
Prepare yourself and enjoy one of the best outdoor activity.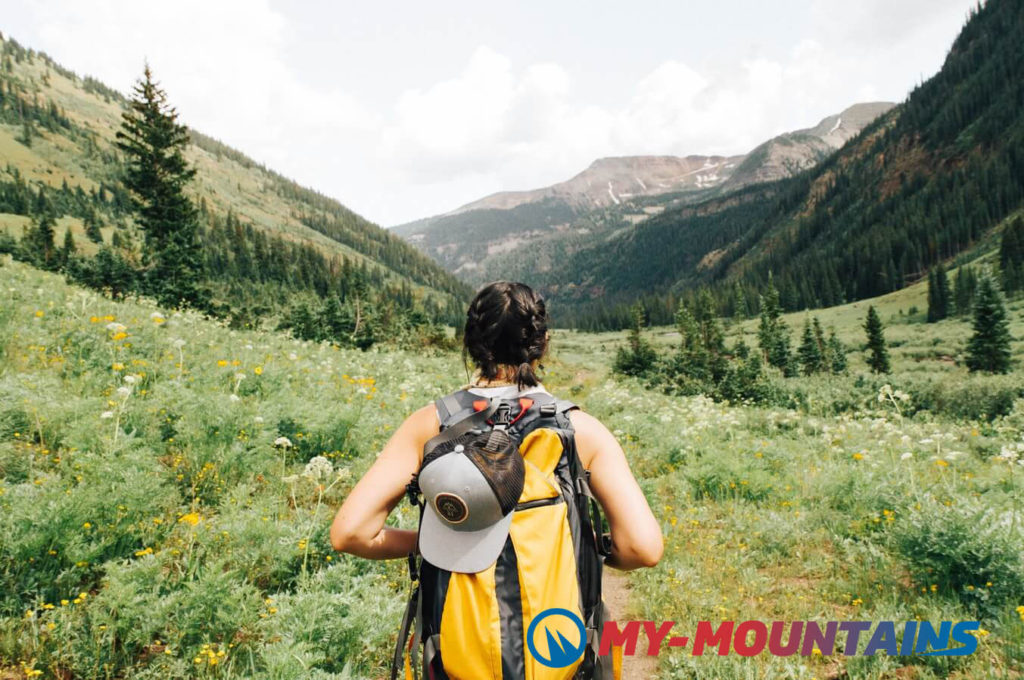 Hiking is one of life's great joys. You might also want to check our guided hikes in Switzerland to even push further your experience. 
Fresh air, nature, exercise and good friends. It's difficult to imagine anything better. Our guided hikes in Switzerland is really the best way to enjoy your weekend or your holiday – if you're prepared. Here you can get some tips and suggestions how to be ready for your next adventure. 
It is a difference if you hike a few hundred yards around your neighbourhood or a few hundred miles around the Swiss landscape. So let see how to get a better enjoyment out of your hiking trips. Generations preserved the rich heritage of the outdoors and nature we now enjoy. That dedication and effort have been rewarded by fantastic hiking opportunities.
But first things first. Do plan your trip. If you're planning to hiking  you're more than welcome to check out our guided hikes win Switzerland and Europe with the best qualified mountain guides. Get the best out of your time and learn tons of great information from your local expert. You can plan too little but it's tough to plan too much. Our guides can reduce drastically the hassle of preparation, that's the most convenient way to enjoy the mountains and save your precious time. Get in shape. Put yourself in the best possible position to enjoy your sport. Check the weather forecast. Any weather different than you expect can turn a good hike into a not-so-good hike. Dress for success. Layer your clothing and be very sure of your footwear. Have the essentials. Your guide will help you with this. Take only what is essential and get the lightest gear you can afford – especially for longer hikes. 
Plan to be out longer than you think. Hiking can be tricky sometimes and it's better to be prepared. If you think three hours, plan for six. Four days, plan for a week. Prepare for the worst. Know first-aid and CPR. Use of food and water. It's okay to ration food, but don't ration water. If you are thirsty, drink. Decision-making skills drop drastically when you are dehydrated. Slow down. If you are hiking only for exercise, you're missing the best part. Nature is all around, slow down and pay attention. You'll be rewarded many times over. Take a friend along. Like most things in life, sharing your hiking passion with someone you care about is awesome.
After that initial preparation, get into some more details. Know the area you will be hiking in too. Through our guided hikes in Switzerland you'll discover the best spots with spectacular landscapes, pristine nature and glaciers. Every area will have some kind of useful information. Whether it's a website with information and trail details, or a map at the park office, trailhead, or visitor centre, always check before you head out on your hike so you know what to expect. Know the conditions you will be facing, wherever you go. Nothing is worse than traveling to a hiking destination only to miss the hike, because it was raining or freezing and you weren't prepared. If the trail is flooded out, or snowy conditions have shut it down for an extended period, you should be able to find this out as well. It is also good to know if there are any plants or animals to watch out for at your hiking location.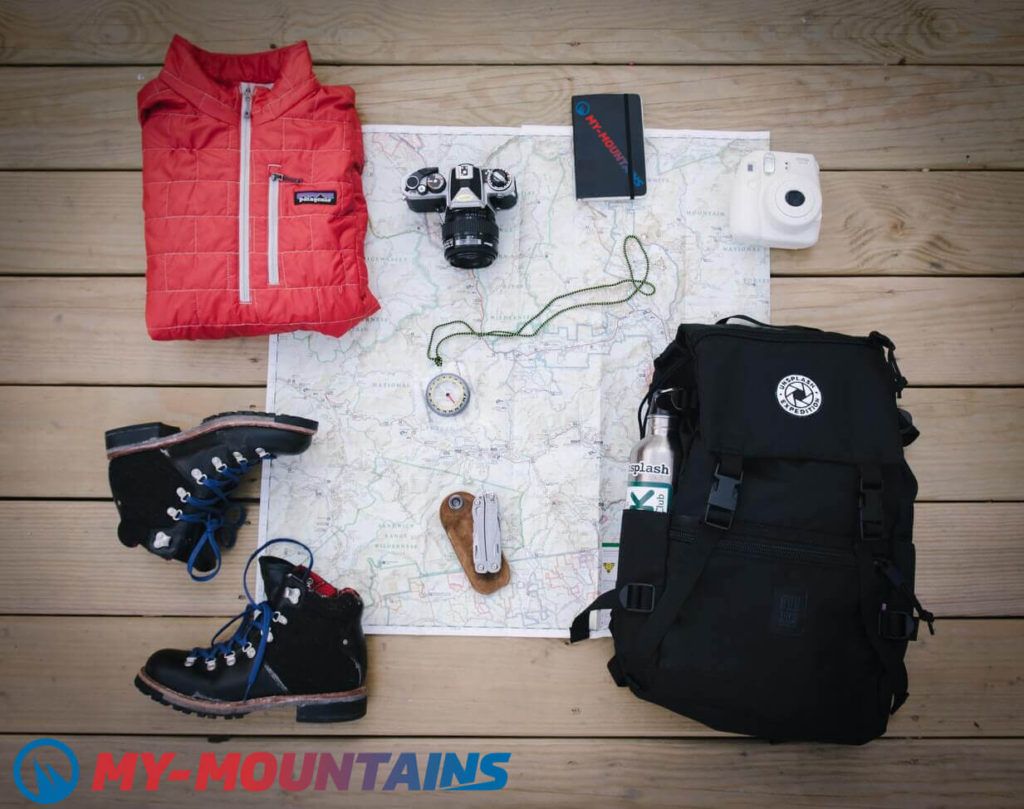 Wear clothing that works and fits the terrain and hike conditions. The right clothes could make the difference between an enjoyable hike and a very uncomfortable one. There are many options in your clothing arsenal, to keep yourself comfortable, here are a couple of pointers:
– Try and stay away from cotton. Instead, look for synthetic and natural fibers that pull moisture away from your body, or at least stay warm when wet.
– Also, go for layers to keep yourself warm, versus carrying around a huge parka, in case you are hit by a freak snowstorm.
– The two most important pieces of clothing for any hiker, are good socks and good shoes. Don't underestimate the pain a hike can cause with uncomfortable shoes and socks.
– Remember that pests and insects are drawn to darker colors so it would behoove you to opt for lighter colors. Black and dark colors also have a tendency to draw heat when in the sun and would not be a welcome side effect when hiking up a steep incline.
– A hat in cold weather is a great addition since your body loses over half its heat through your head.
In addition to knowing the weather conditions, you will need to be prepared with a first aid kit that's appropriate for the hiking you will be doing. In most cases, a simple kit will do. You can pick up a simple first aid kit at a local department or be sporting goods store. Or you can build your own, which should include these basics:
– Different sizes and shapes of bandages and gauzes.
– Various types of tape for wounds of fixing tools.
– Suntan lotion.
– A light emergency blanket (preferably with some kind of water resistance).
– Aspirin, allergy, laxative, and anti-diuretic medications.
– The small multi-use tool with a knife, scissors, and a needle and thread.
– A cell phone can come in very handy in emergencies.
It's a good idea to pack all of this in a waterproof bag or container.
What's In Your Hiking Pack? As an outdoor enthusiast, you have complete control over what you carry or what stays in the car – such as a cell phone, do you carry one? I wouldn't dare go in the backcountry without all of the items listed below as "Highly Recommend." What's In My Hiking Pack? Here is a list split into two categories with the weight of each item in kg:
Highly Recommend Cell Phone, First-Aid Kit, Flashlight, Food, Insect Repellent, Map & Compass, Multi-Tool, Signal Mirror, Spare Vehicle Key, Sunglasses & Sunscreen, Water, Waterproof matches, Waterproof windbreaker, Whistle. Total weight: about 2,5 kg, not including water.
Nice to Have: Bandana, Binoculars, Cash & ID, Emergency Blanket, Extra Batteries, GPS Unit, Hand warmers, Hunting knife, Lighter, Lip Balm, Mini-Umbrella, Paper & Pen, Rangefinder, Road Flare, 3-meter long rope, Saw, Toilet Paper, Work Gloves. Total weight: 2 kg.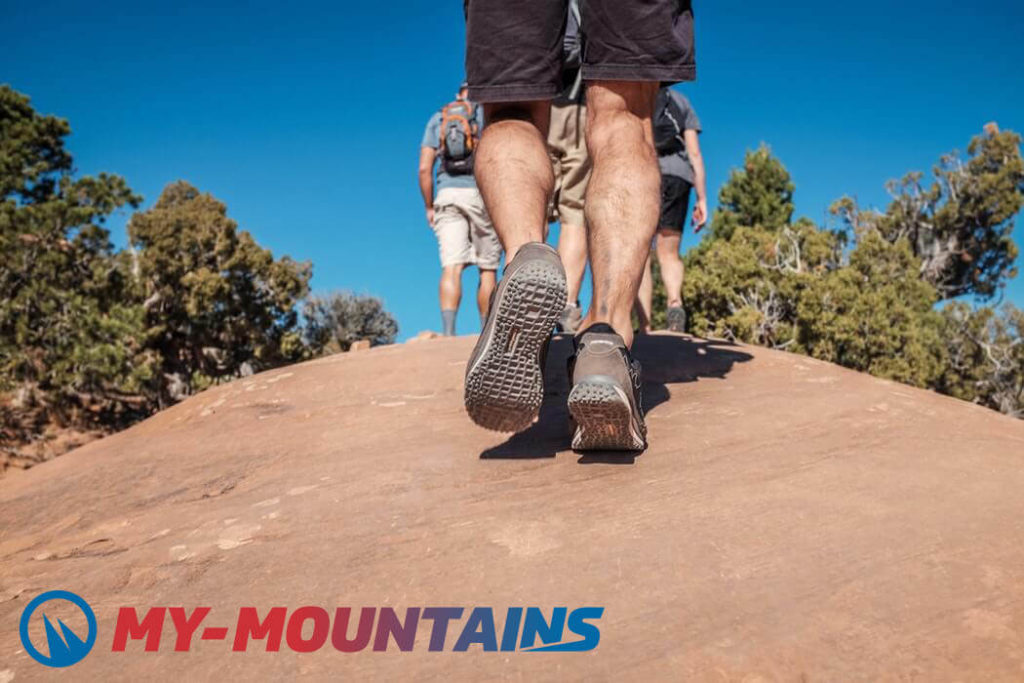 If possible, get a backpack that has a shoulder harness system that takes the weight off of your lower back and distributes it evenly across the shoulders and upper back. You will hardly notice your pack when you are wearing it. One last point, if you carry something – make sure you know how to use it. We suggest carrying a well thought out pack is a good habit and a good outdoor life-skill. One day it may save a family member, an outdoor companion or even you.
The basic principles and essentials of walking are not only the leg movement but the whole body movement, pay attention to balance the body and the adjustment of the pace through the arm. Control your walking rhythm, and the best walking speed is walking but without big breath and ensure your pulse is no more than 120 beats/minute. Chin up and straighten your back, take your deep breath by abdomen, keep the whole foot touching the ground, the displacement order is from heel to toe. No matter at what time, you should walk under the walking rhythm, do not speeding up and be slowing when you run, try to keep the uniform speed.
At the very beginning of hiking, you should keep yourself a slow movement in order to warm up your body, and speed up the pace after 5-10 minutes. The team members should keep their distance in certain miles, in order to make sure that the suspended walker and the advanced walkers will not affect each other. Usually, the suspended team members are the walk in the right side and the advanced walkers are certainly for the left side when meeting with the oncoming team, both sides should keep this rule as a respect. A safe distance between the suspended members and the advanced members should keep in ten minutes' distance or 200 meters in the daytime, while at night the distance should be 5minutes or 20 meters. It is necessary to develop good habits when hiking: focus on walking, do not laugh and frolicking when walking; avoid loud singing, because it will not only distract the attention of other players, while also unnecessary consumption of their physical exertion.
When walking in the uphill, the center of gravity should be in the fore-soles of the feet, and keep the body slightly forward when going downhill, focus on the hind paw, while lowering the center body gravity, slightly drooping. Whether uphill or downhill, when walking on the steep slope, your trace should take a zigzag shape and avoid a straight line from top to bottom, this is a relatively safe walking on the downhill. When going in uphill or downhill, you should go on a hand test pull of the stones, twigs, and cans, to make sure whether they can load with your body, then you can grab on it to go on your climbing. People often see the players pull withered rotten branches, rattan, which cause falls, injuries and other accidents.
The hikers should also pay attention to their rest principle when walking, generally, short rest combine with long time rest, and the short one is usually the main choice. A short break should control within five minutes and is not relieved by backpacks and other equipment, to recover the normal breath. A long rest time should be happened in every 60-90 minutes, with a rest time for 15-10 minutes by moving the backpacks down. The first 2-3 minutes standing time is for adjusting the breath, then sit down, but not to stop to sit down and rest, this will increase the burden on the heart. Hikers can choose to massage the legs, waist, shoulders and other muscles among each other or just by themselves, or they can choose to slay down make sure the leg blood congestion is ready to flow into the heart.
Are you planning to hiking? Check out our wonderful guided hikes in Switzerland and Europe directly here. You'll get to explore unique places off the beaten track with a professional local guide. We have a great selection of guided hikes in Switzerland. Just chose your next adventures and our guides will be happy to accompany you in this adventure.
#guidedhikesinswitzerland #hikingadventures  #hikinglife #hiking #swisshikes #hikingtours #hikingtips #liveyourmountainpassions #hikinginswitzerland
guided hikes in Switzerland guided hikes in Switzerland guided hikes in Switzerland guided hikes in Switzerland guided hikes in Switzerland guided hikes in Switzerland 
Be part of our exclusive community of Providers and unleash your potential. We support you to to advertise and sell directly online your services.
Get inspired by our community of selected local experts and enjoy mountains like never before. Get it or regret it!  
Be the first to know about our latest experiences.
Sign up to our Newsletter