Deciphering the Swiss Ski Slope Grading
When it comes to skiing in Switzerland, understanding the Swiss ski slope grading system is key to finding the perfect challenge for your winter adventure. 
The Swiss take their slopes seriously, and their grading system is designed to help skiers of all levels navigate the mountains with confidence. 
So, let's dive into the details of the Swiss ski slope grading!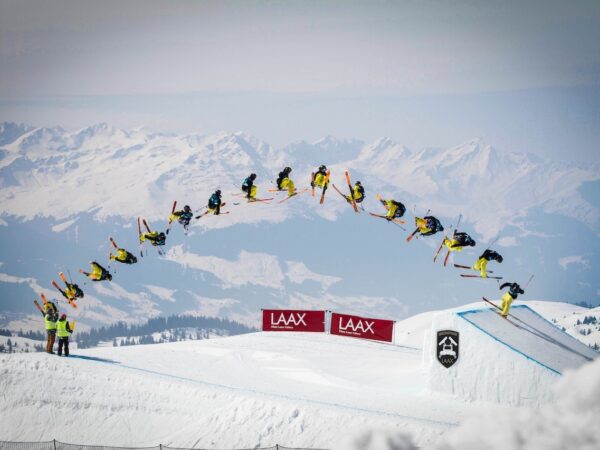 Green to Black: The Range of Difficulty Levels
In Switzerland, ski slopes are divided into three main categories: blue, red, and black. Each color represents a different difficulty level, catering to skiers of various skill sets. 
Blue slopes
Perfect for beginners offering gentle gradients and wide paths to get started. 
Red slopes
Offer a more exhilarating experience for intermediate skiers with steeper descents and tighter turns. Here you can really practice your carving skills.
Black slopes
Only for daredevils. Black slopes present the ultimate test of skill, featuring steep gradients and demanding terrain, for instance involving moguls and narrow, steep descents.
There is a fourth unofficial piste colour, green. It's used for practice slopes with light to no gradient, suitable for children and absolute beginners. They usually have no clear marking but are populated by ski schools and are easy to spot.
Let's not forget about orange pistes! Now, those are not so easy to come across, mainly in Switzerland and Austria. Orange slopes are more challenging than black ones. It's safe to say they go beyond the scale! Be careful when entering such piste and make sure you can handle the conditions!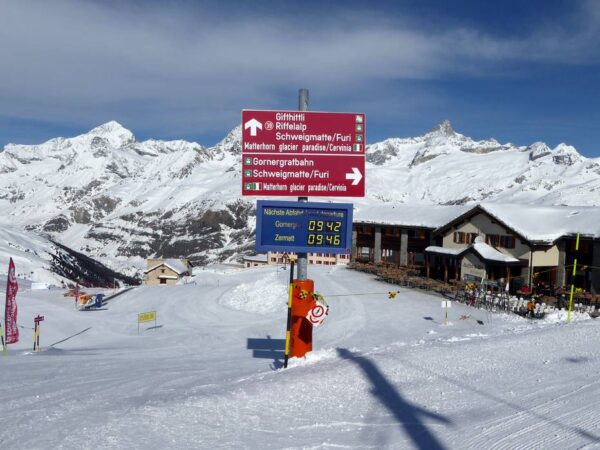 More Than Just Colors: Additional Symbols and Signage
Swiss ski resorts utilize additional symbols and signage to enhance the Swiss ski slope grading system further. 
These symbols provide valuable information about slope conditions and potential hazards. Keep an eye out for symbols such as a snowflake inside a circle, indicating that the slope is covered in artificial snow.
Another symbol to watch for is an exclamation mark within a triangle, warning skiers of potential dangers like ice patches or rough terrain. 
These symbols, combined with the color-coded grading system, ensure that skiers have a comprehensive understanding of the slopes they're about to conquer.
As you hit the slopes, you might also come across numbers accompanying the slope grades. 
In the Swiss ski slope grading system these numbers represent the steepness of the slope, with higher numbers indicating a more challenging descent. 
Some black slopes are marked with an additional diamond sign. It indicates an extra challenging terrain with step descents and moguls. Only for skiing profis!
So, if you're feeling up for a thrilling adventure, watch for those high numbers and prepare yourself for an adrenaline rush!
Additional signs to watch out for
The Swiss ski slope grading system requires Swiss resorts also to use a labeling system that rates the grooming and maintenance of the slopes. 
Look for signs with the letter "P" for perfectly groomed pistes, making for a smooth and enjoyable ride.
Alternatively, signs with the letter "N" indicate natural or ungroomed slopes, which offer a more challenging and authentic skiing experience. 
Whether you prefer the perfectly groomed pistes or the raw beauty of natural slopes, Switzerland has something to satisfy every skier's preference.
Here you can read more on why the slopes need grooming.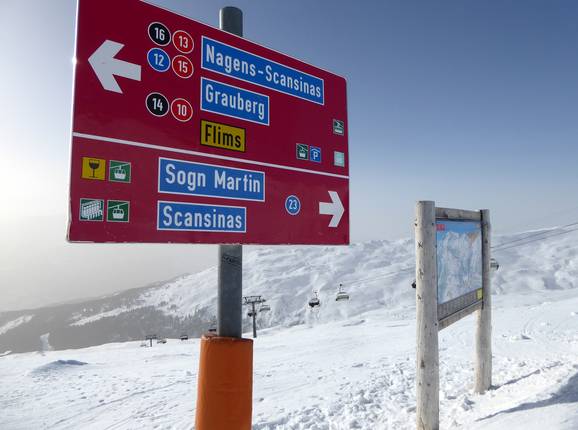 A Playground for All Skill Levels
Switzerland is renowned for its diverse ski resorts that cater to skiers of all levels. 
Whether you're a beginner looking for gentle slopes or an expert seeking adrenaline-pumping challenges, Swiss ski resorts have got you covered. 
With a wide range of slope grades available, these resorts offer tailored experiences for every skill level, making Switzerland a true skiing paradise.
Check out our personalized ski holiday offer that accommodates every ski level and non-skiers alike. 
Family-Friendly Fun
For families planning a skiing holiday, Switzerland is a dream destination. Many Swiss ski resorts excel in providing family-friendly facilities and gentle slopes perfect for little ones taking their first ski steps. 
Resorts such as Arosa Lenzerheide, Grindelwald, and Saas-Fee offer dedicated kids' areas, ski schools, and gentle blue slopes where children can learn and have fun. 
Watching your kids conquer their first slopes with sheer excitement is a priceless experience you won't want to miss.
Intermediate Adventures
Intermediate skiers seeking a balance between challenge and enjoyment will find numerous ski resorts that offer a wealth slopes graded blue and red according to the Swiss ski slope grading. 
Verbier, Zermatt, and Crans-Montana are just a few examples of resorts known for their intermediate-friendly terrain. 
These resorts boast a mix of blue and red runs that allow you to perfect your technique while taking in the breathtaking alpine scenery. 
From carving smooth turns to mastering moguls, you'll have plenty of opportunities to enhance your skills and build confidence.
Interested in building your skiing technique? My-Mountains offer world-class skiing classes with professional coaches.
"My-Mountains – where travel becomes an
unforgettable adventure."
Thrills for the Experts
Experienced skiers craving the ultimate thrill will find themselves in paradise on the black diamond slopes of Swiss ski resorts. 
Resorts like St. Moritz, Laax, and Engelberg are renowned for their challenging runs, steep descents, and demanding terrain.
Whether you're seeking moguls, off-piste adventures, or expertly groomed black runs, these resorts will push your skills to the limit. 
Brace yourself for heart-pounding descents and the sense of accomplishment of conquering some of Switzerland's most challenging slopes.
Well-Deserved Relax
In addition to the variety of slope grades, Swiss ski resorts offer amenities and après-ski activities to enhance your overall experience. 
(If you'd like to master the art of après-ski, here is your ultimate guide to this core element of Alpine ski lifestyle).
After an exhilarating day on the slopes, you can relax in cozy mountain lodges, indulge in delicious Swiss cuisine, or unwind at luxurious spas.
With Switzerland's well-developed infrastructure and commitment to providing exceptional service, your ski holiday will be as enjoyable off the slopes as it is on them.
At My-Mountains we offer top-notch luxurious accommodations across Switzerland's best ski resorts. Click here to check our offer.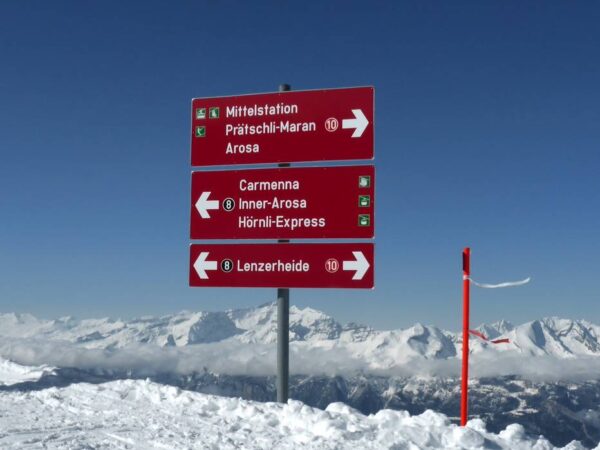 Venturing Beyond the Slopes
Switzerland offers experienced skiers an array of off-piste and backcountry ski options that will ignite your sense of exploration.
In the Swiss ski slope grading, off-piste skiing refers to skiing outside marked and groomed slopes, while backcountry skiing takes you into the pristine wilderness beyond the resort boundaries.
So, pack your sense of adventure and get ready to go off the beaten path!
Powder Paradise: Swiss Gems for Off-Piste Thrills
Switzerland is a powder lover's paradise, with countless opportunities for off-piste skiing adventures.
Resorts like Verbier, Engelberg, and Davos-Klosters are known for their extensive off-piste terrain.
Here, you can carve fresh tracks through fluffy powder snow, surrounded by breathtaking alpine landscapes.
With the right gear, knowledge of avalanche safety, and the guidance of a qualified guide, you can unlock a world of exhilarating off-piste experiences.
Backcountry Bliss: Discovering Switzerland's Pristine Wilderness
If you're seeking a deeper immersion into the backcountry, Switzerland has you covered.
With its vast network of mountains and valleys, the Swiss Alps offer backcountry skiing opportunities that will leave you in awe.
Regions like the Valais, Bernese Oberland, and Graubünden are popular among backcountry enthusiasts, offering a mix of challenging slopes, untouched snowfields, and awe-inspiring descents.
Before venturing into the backcountry, always check the weather conditions and be aware of the avalanche warnings in the area. Be sure to equip yourself with the necessary safety gear, including a transceiver, shovel, and probe, and acquire the skills to navigate the mountainous terrain. 
At My-Mountains we offer tailor-made guided tours into the Swiss backcountry. Venture into the wilderness with our snowshoeing excursion and experience the thrill of getting lost in nature.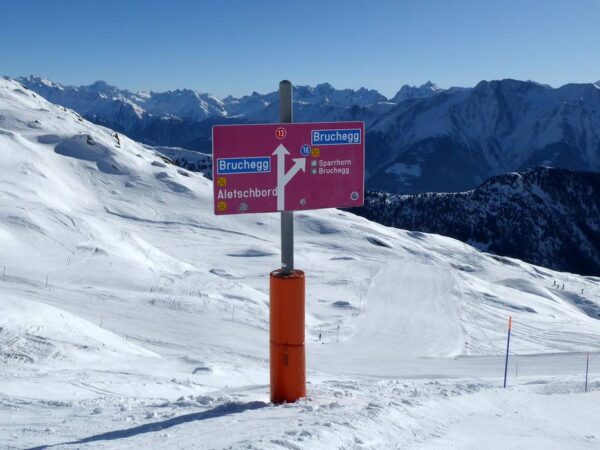 Assess Your Skill Level
When it comes to skiing in Switzerland, selecting the right ski slopes based on your skill level is crucial for a safe and enjoyable experience.
Be honest with yourself and assess your skiing abilities. Are you a beginner, intermediate, or advanced skier? Knowing your ski level will help you determine which slope grades are suitable for you.
Understand the Swiss Ski Slope Grading System
Familiarize yourself with the Swiss ski slope grading we discussed earlier.
Remember, green slopes are perfect for beginners, blue slopes are ideal for intermediate skiers, red slopes offer a challenge for advanced skiers, and black slopes are reserved for the experts.
Choose slopes that align with your skill level to ensure a comfortable and controlled skiing experience.
Consider the Current Conditions
Keep in mind that ski slope conditions can vary depending on factors such as weather, snowfall, and grooming.
Before hitting the slopes, check the current conditions to ensure optimal safety and enjoyment.
Resorts often provide daily updates on slope conditions, including information on grooming, snow quality, and any potential hazards.
Stay informed to make informed decisions about which slopes to tackle.
Additionally, consider the weather forecast. If heavy snowfall or adverse weather conditions are expected, it's essential to exercise caution and follow the guidance of resort officials.
In Switzerland, MeteoSwiss is a reliable source of information about snowfalls, avalanche warnings, and skiing conditions in all Swiss resorts. Here, you can download MeteoSwiss App (available in English).
Accommodate Your Physical Fitness
While selecting slopes, also take into account your physical condition and energy levels.
Skiing can be physically demanding, so if you're feeling tired or fatigued, it's best to opt for slopes that match your energy levels to avoid accidents or injuries.
Remember, safety should always be a top priority when skiing in Switzerland.
If you're unsure about your abilities or the conditions, don't hesitate to seek advice from ski instructors or resort staff. They are there to assist you and provide guidance to ensure your safety on the slopes.
At My-Mountains we offer a variety of guided ski holidays in the Swiss Alps, designed to ensure your safety. Book ski holidays with an experienced ski coach and guide here. 
Ski Slope Grades in Switzerland Made Easy
We hope that this guide to Swiss ski slope grading will help you make a great choice for a Swiss ski resort.
No matter your skill level, Swiss ski resorts will leave you spoiled for choice. From family-friendly slopes to intermediate adventures and expert challenges, there's something for everyone.
Don't wait: book your flight, gather your gear, lace up your boots, and get ready to carve your way through the majestic Swiss Alps.
Swiss ski slope grading will guide you to an unforgettable winter wonderland. Get ready to experience the thrill and beauty of skiing in Switzerland like never before!
Check out our latest Articles: