Embark on a 7-Day Guided Swiss Alps Ski Trip with My-Mountains
Picture yourself gliding down pristine slopes, surrounded by the majestic Swiss Alps, with a sense of adventure and wonder that only such a breathtaking landscape can evoke. 
Join us for an unforgettable 7-day guided Swiss Alps ski trip through some of Switzerland's most renowned resorts, where luxury, skiing, and awe-inspiring beauty merge together.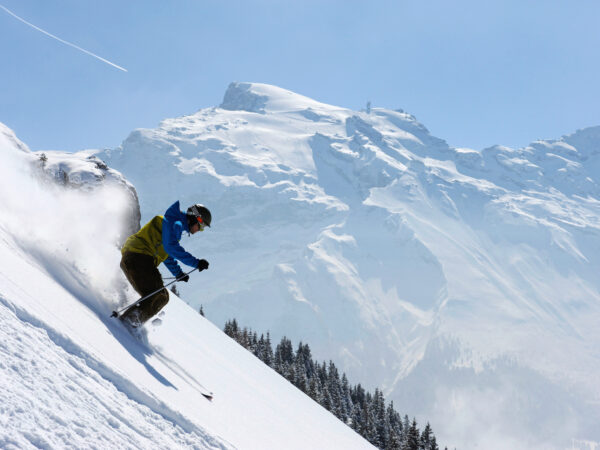 Exploring the alpine paradises: Engelberg, Grindelwald, and Wengen
This 7-day guided Swiss Alps ski trip is designed to let you discover three of the best ski resorts in Switzerland: Engelberg, Wengen, and Grindelwald in the Jungfrau region. These three distinct alpine destinations reflect their own character in the skiing experience.
Grindelwald and Wengen lead the way in picture-perfect views of the jewels of Bernese Highlands: Jungfrau, to be admired from over 200 km or 150 miles of ski pistes.
Engelberg is a focal point for all skiing fans, nestled at the foot of Titlis. With over 80 km or 56 miles of runs, this resort is a treat for black piste lovers.
You can extend your stay to ski in Zermatt's, one of the world's best ski resorts. With over 300 km (186 miles) of slopes and majestic views on Matterhorn, Zermatt is not to be missed.
Overall, each resort offers a unique blend of length and difficulty of slopes, breathtaking views, and top-quality infrastructure that make for an unparalleled skiing experience.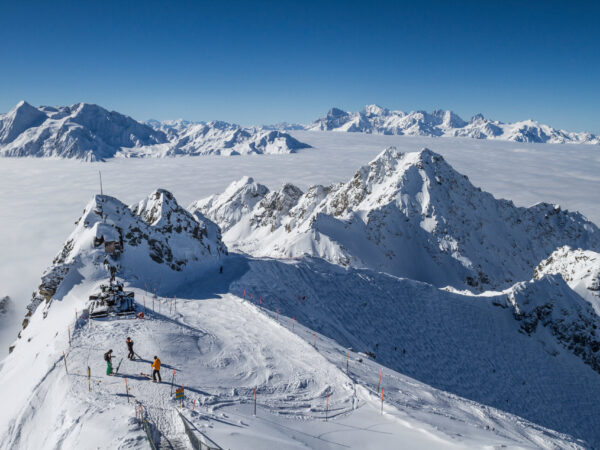 A seamless itinerary 
How one can seamlessly blend skiing in two or three resorts within just seven days?
With My-Mountains, everything is possible.
We use exclusively the Swiss public transport system – one of the world's most efficient and dependable networks, reaching even the most remote destinations. Travel comfortably between destinations with the help of your guide.
After your touchdown in Zurich, your English-speaking ski instructor and guide will pick you up and swoop you to the first destination: Engelberg.
It's a short, couple-hour ride that delivers the first breathtaking experience. Here, you will stay two nights and explore everything Engelberg offers: breathtaking rides on Titlis Glacier (10,000 ft), Rotair, the famous rotating gondola, ice grottos, and snowy zipline adventures.
Grindelwald
From Engelberg, we will transfer to Grindelwald, a charming mountain village nestled between the snow-capped peaks of Schwarzhorn and Eiger.
Here, you will explore the amazing Jungfrau region with its astonishing views of the magical trio, Eiger, Monch, and Jungfrau. Enjoy the mountain serenity hard to find elsewhere and benefit from the varied skiing slopes the Jungfrau region is famous for.
The two villages of Grindelwald and Wengen still preserved their old-world charm and will welcome you with their snow-capped roofs and glistening popsicles, cozy interiors, and hearty meals. 
Zermatt
If you wish to do so, you can extend your trip to Zermatt or add it to the 7-day guided Swiss Alps ski trip itinerary for an ultimate ski safari experience.
"Once a year, go somewhere you have never been before." 
– Dalai Lama –
Guided ski experience: mastering the Alps with world-class instructors
Embark on this guided Swiss Alps ski trip confidently, as you'll be accompanied by world-class English-speaking ski instructors. Regardless of your ski level, the assistance of a skiing guide can upgrade your skiing experience.
Your guide will become your first point of help and reference during your trip. They will help you navigate the ski rentals and show you the best pistes away from the crowds. They will be happy to show you the village and tell you a bit about its past if that's something interesting for you.
They will definitely share their tips and tricks for the best restaurants and apres-ski bars. And if you're looking to improve your technique, your ski instructor will be more than ready to work with you.
From beginners looking to conquer the basics to advanced skiers aiming to refine their techniques, our expert ski guides will ensure that every moment on the slopes is safe, enjoyable, and rewarding.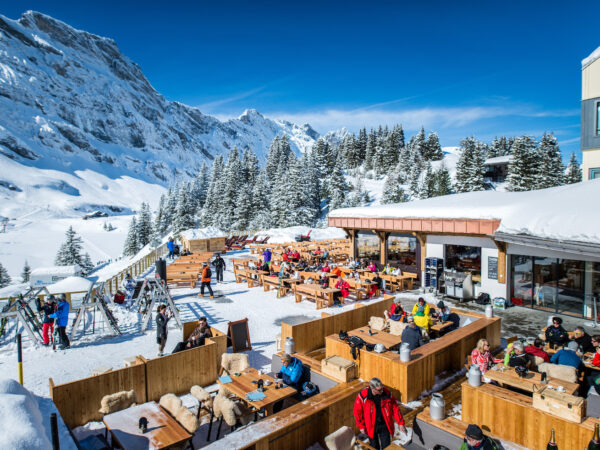 Beyond the slopes: non-skiing attractions
Your winter guided Swiss Alps ski trip in Switzerland doesn't have to begin and end on the slopes only. Many ski resorts have a plethora of other attractions suitable for non-skiers and skiers alike, where families can have fun all together.
In Grindelwald, you can climb to Jungfraujoch,  "Top of Europe" with the famous cogwheel train. Jungfraujoch, the highest railway station in Europe, offers panoramic views of the Eiger and Aletsch glaciers as well as other famous peaks. Enjoy ice palace, Sphynx, and other attractions you won't find anywhere else.
In Wengen, explore cozy streets, visit its ice rink, or unwind at local cafes, soaking in the peaceful atmosphere of this car-free village.
In Engelberg, test your fear of heights with a Cliff Walk, a suspension bridge, or fly over a glacier with a zip line. Don't forget to pay a visit to a glacier cave.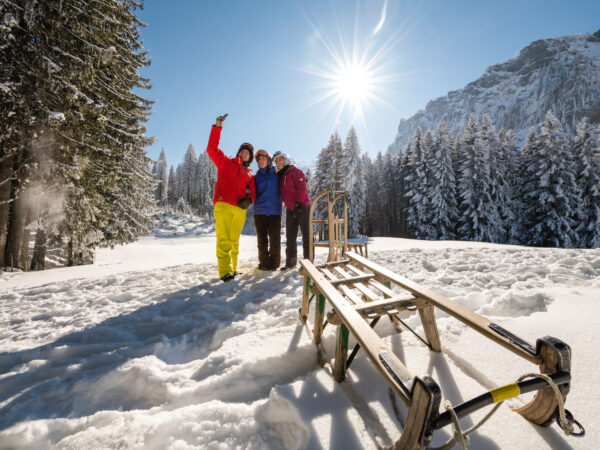 My-Mountains and all-inclusive skiing experience
We enjoy offering top-quality service and care that makes you feel at home, and allows to relax truly, just as you deserve. With My-Mountains as your guiding partner, your journey to Engelberg, Grindelwald, and Wengen will show you the Swiss quality for the all-inclusive ski holidays in the Swiss Alps. 
We can't wait to spoil you with our customizable, exclusive ski holiday packages created especially for you and your companions. 
Our goal is to make your trip unforgettable. We commit to delivering the highest quality of service with a level of personalization, care, and flexibility that is hard to come by with other providers.
You're welcome to contact us or fill out a dedicated "Design your trip" form to tell us what you'd like to do during your winter holiday.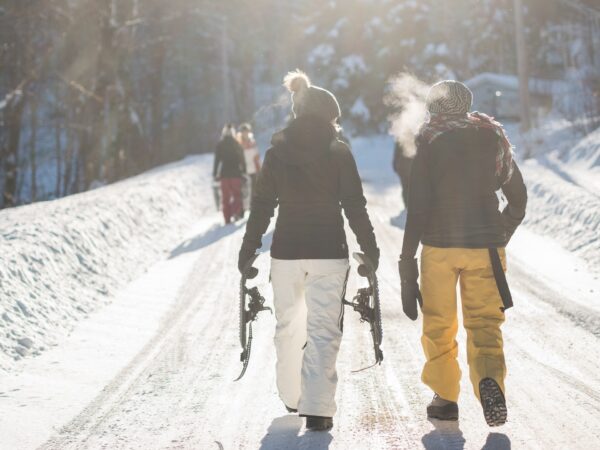 A tapestry of alpine splendor and adventure
And with the last day spent on the slopes, last apres-ski drink, and delicious local meal, it's finally time to go home.
We hope your guided Swiss Alps ski trip will stay with you forever and you will fondly look back at the memories. This trip has been designed to let you experience the beauty of the Swiss Alps your way – and we hope we all achieved that.
Check out our latest Articles: