When to book ski holiday in Switzerland - smooth planning with My-Mountains team
Holidaymakers can usually be divided into two groups: those who plan their holiday a year in advance and those who pick a last-minute deal a day before flying.
And what's the best method for planning ski holidays in Switzerland?
The golden mean to successful ski holidays lies probably somewhere in between. Skiing usually requires a bit more preparation and planning. 
As for the question, when to book ski holiday in Switzerland, the answer is pretty easy – the earlier the better!
Choosing a perfect resort and  learning about extra winter activities and attractions can be time consuming. 
The same goes for finding your ideal accommodation! 
In this article, we will get into the nitty-gritty of when to book ski holiday in Switzerland.
We will also share our best tips and practices to help you make your next ski holiday in Switzerland the best one yet.
Let's go!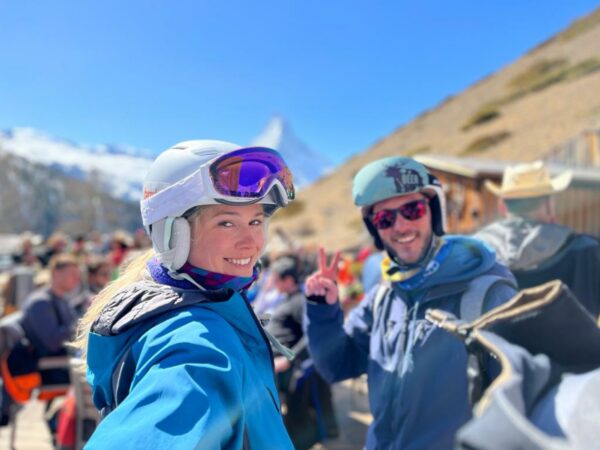 When to book ski holiday in Switzerland: the earlier the better
Even though we recently learned, that world events can be unpredictable (cue lockdowns and travel restrictions) it's still a good idea to start planning your holidays at least 6 months in advance. 
We might not know what's going to happen but the rules haven't changed: planning early saves time, money, and headache! 
Planning ahead also helps us get time off work exactly when we want it.
As you'll learn from this article, the best time to ski in Switzerland is between January to March. Although some resorts with Glaciers like Zermatt and Seas Fee have great ski conditions also from December to April. If you want to avoid the crowds and enjoy sunny pistes in Zermatt, better call your boss ahead when everyone is still enjoying their beach time!
By planning early can you make sure that your desired accommodation will be available.
Switzerland is a popular destination and the best holiday houses, hotels and lodges get snatched pretty quickly. Casually browse holiday lodging 6 or 7 months in advance, especially if you're planning to come to the Swiss Alps during peak season. 
Think ahead and get those early bird discounts
Luxury ski holidays have their cost, there's no doubt about it. In Switzerland you know what you're paying for and that's top quality service. Yet booking early might save you a few hundred off your budget. It's a few hundred you can spend enjoying other attractions like ice caves, horse-sleigh rides or gondola rides, or savoring delicious local meals. Either way, it's a win-win situation.
Sounds interesting?
If you want to know our tricks on early planning of a great ski holiday then, keep reading! 
Switzerland – the skiing paradise
If you haven't skied in Switzerland yet, you are in for a treat.
For years, Switzerland, a small Alpine country in Western Europe, has been known as a premier destination for ski enthusiasts. And Switzerland is indeed a league of its own. You've probably heard tales about pristine slopes, charming Alpine villages that hardly changed over the last hundred years, and, of course, famous Swiss hospitality.
This combination can't be found anywhere else!
Swiss ski slopes are easily one of the most famous ones in the world. And rightfully so! Switzerland, and more precisely, St. Moritz and Davos, has been home to winter tourism and sports since the late 19th century.
As alpine and Nordic skiing became more popular among upper-class tourists chiefly from Great Britain, they started practicing them in the breathtaking scenery of the Swiss Alps.
Their presence contributed to developing the world-class winter sports infrastructure Switzerland can boast today.  
Everywhere from Zermatt to Davos, Swiss ski resorts have everything you need: best-in-class ski lifts, breathtaking views, lively apres-ski bars, and hundreds of ski slopes fit for every ski level.
And the best part?
The Swiss take great pride in maintaining their ski resorts to ensure top-notch skiing conditions throughout the season.
All that and more make Switzerland a true skiing paradise.
Whether you're a seasoned pro looking for black diamond pistes or a beginner wishing to start their adventure with skiing, there is no better place to spend your winter skiing holidays than Swiss Alps.
But let's dive into the question when to book ski holiday in Switzerland.
"My-Mountains – where travel becomes an
unforgettable adventure."
When to book ski holiday in Switzerland – finding an ideal time to plan
Planning a ski trip to Switzerland can be a little tricky.
There are many early-bird offers, last minute deals, combined offers for skiing and sleeping and many people simply feel lost as to when to book ski holiday in Switzerland.
Choosing the best ski resort in Switzerland or finding just the right accommodation at the right time can cause a real headache.
But don't worry!
Here are a few insider tips for a smooth and stress-free booking process!
Generally, it's a good practice to start looking for your dream holiday offer 6 to 8 months before the planned dates.
Why? Because the early bird catches the worm (or, in this case, the best deals). Switzerland is very popular among skiing enthusiasts with various budgets.
By planning your holiday early enough, you will be able to choose from a wide variety of accommodation offers at different price points.
That also increases your chance of finding a perfect holiday spot for you and your companions! Early risers, go ahead and catch that worm!
Planning early also leaves you more wiggle room. If, for any reason, you change your mind about a destination or type of accommodation, you will be able to cancel the booking with a full refund and still benefit from a wide offer of other places.
Holidays during peak season
If you plan to ski in Switzerland during the peak season, it's better to start booking early: a minimum of 8 months in advance is recommended.
Peak seasons in Switzerland are: Christmas Holidays, February to early March and Easter. 
Why? Plenty of guests travel to Switzerland to enjoy skiing in the holiday atmosphere. Mulled wine, snow-capped wooden houses, fairy lights, and cozy Christmas markets are true hallmarks of the season.
On the downside, the resorts and pistes can be quite crowded. If you want to celebrate Christmas and New Year's Eve in the Swiss Alps, try to book as early as possible!
My-Mountains Tip: Book holidays during the off-peak season
If you can, we recommend planning your ski holidays in Switzerland during the off-peak season:
December and January, just before and after Christmas;
March or April (only for higher resorts like Zermatt or Seas Fee). So answering when to book ski holiday in Switzerland: 
The best time to book is August till early September. 
Then, you can enjoy a quieter and more serene side of Swiss ski resorts, with better snow conditions and less crowded slopes. The accommodation offer is also much wider as compared to peak season.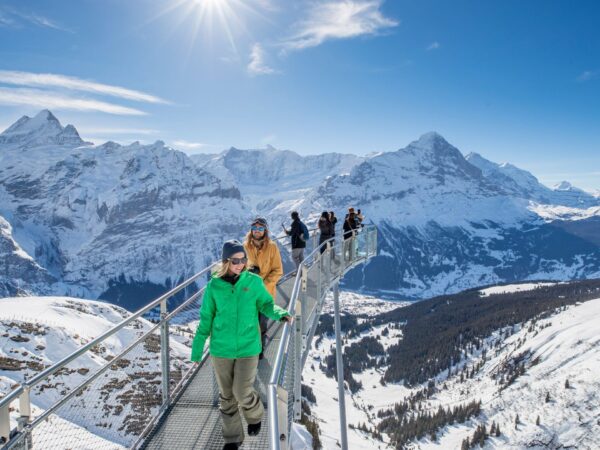 Customizable ski holiday packages – make ski holidays in Switzerland truly yours
It's all great, we hear you say.
But if all the ski resorts in Switzerland are fantastic, which should I choose? What is a better option, a chalet or a hotel? Where do I even find a chalet that suits my needs?
We hear you. Let's talk about customized ski holiday packages in Switzerland.
At My-Mountains, your leading local tour operator in Switzerland, we take package holidays to the next level and make the experience truly yours.
How? For us, it's all about client-oriented customization. We are dedicated to offering a personalized ski holiday experience that combines all your needs and priorities.
We believe there is the right holiday package for everyone: the relaxed skiers, the adventure seekers, the non-skiers, and even their pets.
Imagine having your very own ski holiday tailored just for you and your companions. At any point, you can count on the assistance of an experienced local guide to support you with their advice.
Your itinerary reflects precisely what you wish to experience and how – and it's flexible enough to make last-minute changes.
That's what customizable ski holiday packages at My-Mountains are all about.
Customizable ski holiday packages – how it works?
A customizable ski holiday with My-Mountains is the easiest way to enjoy the ultimate skiing experience in Switzerland. 
Do you have a mountain or resort in mind? Or a particular activity? Let us know, and we will organize a top-notch itinerary around your priorities.
We will find the most optimal ski resort for your ski level or help you combine several resorts for an ultimate skiing experience.
Don't worry about tickets and transfers. We will pick you up at the airport and help you get to your chosen resort. There, a local guide will introduce you to your holiday itinerary and assist you with getting to know the resort.
Whether you're after a luxurious resort hotel or a cozy mountain chalet with crackling fireplaces, your accommodation will be the perfect sanctuary after a day on the slopes.
When to book ski holiday in Switzerland with a tour operator? Make sure to request a call or a quota in advance – the best timeline is 4 to 6 months. Then, we will make sure to deliver a perfect itinerary reflecting your top priorities.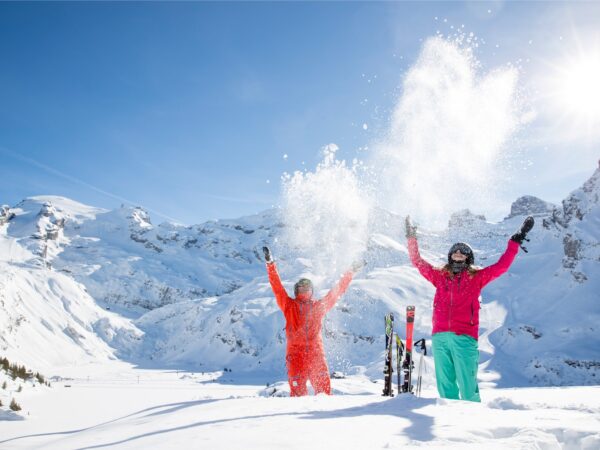 Swiss ski holidays – an authentic alpine experience
At My-Mountains we prioritize authentic experience!
As a local tour operator, we want to show you Switzerland from off the beaten path and share our favorite hidden gems.
That's why we also want to show you true Swiss cuisine! Food is such an essential part of every journey.
We will make sure that you have an opportunity to try the famous Swiss fondue, raclette, and rösti. And let's not forget about delectable Swiss chocolate – there will be plenty of that as well!
All for a truly authentic Swiss experience.
Ski lessons for beginners and skiing pros
Many guests traveling to Switzerland for their ski holidays are interested in ski lessons. And there is no better place to learn how to ski than Switzerland!
While many resorts have ski schools available, it's not so easy to find English-speaking ski instructors.
Learning to ski is hard enough – without trying to understand instructions in a foreign language!
That's why ski holiday packages at My-Mountains also include ski lessons.
Our team of world-class English-speaking ski instructors is ready to take your skills to the next level.
Whether you're a long-term skier who wishes to polish your technique or a complete beginner, we will make your experience on the slopes the best possible.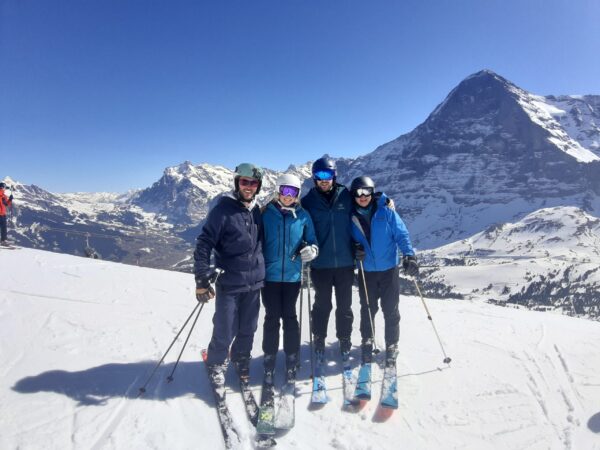 Book your custom ski holiday package today!
We hope this post answer your question when to book ski holiday in Switzerland!
Say goodbye to cookie-cutter ski holidays: with My-Mountains, it's all about customizing your experience to make it truly yours.
Switzerland is a paradise for ski enthusiasts, with its awe-inspiring landscapes, renowned ski resorts, and personalized experiences.
The variety of customizable Switzerland ski holiday packages with My-Mountains offers ensures that everyone can embark on their dream ski adventure.
Whether you're a seasoned skier or trying it for the first time, Switzerland awaits you with open arms and pristine slopes.
Get ready for a ski holiday like no other – an experience that will leave you with cherished memories for a lifetime!
Check out our latest Articles: